We want to provide ideas, inspiration, and information for moms everywhere as we look at the world around us through MomColoredGlasses...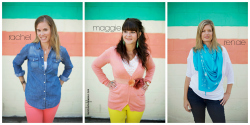 Popular Posts
Be Inspired
Not Found
Sorry, but you are looking for something that isn't here.
Be Whole
Not Found
Sorry, but you are looking for something that isn't here.
Be Informed
Not Found
Sorry, but you are looking for something that isn't here.
Lisa joins us from Alabama where she lives with her husband and young son. She will be writing each month about her adventures as a vet and a mom to both two legged and four legged children. Yes, she is an avid animal lover and pet owner. Check out her first post here.
What is the age/gender of your child?
I have a 2 year old boy.
What is your working situation?
I'm a veterinarian and I work 45 hours a week.
What has been one of the greatest joys of motherhood?
The look on my son's face when he sees me. Even if I've only been gone an hour, to see his face light up like I'm the best thing in his world just fills me with happiness.
What has been one of the greatest challenges of motherhood?
Housework. Between work and making sure my son is fed, dressed, and happy, there's not much time for cleaning. Or maybe it's just that I never liked it to begin with and now I have an excuse. Either way, I won't be winning any Good Housekeeping awards anytime soon.
How has your perspective changed since becoming a mother?
My husband and I used to go out to eat all the time. After church we would ask other couples if they wanted to hang out for a while, or we would meet for dinner after work, and it seemed so easy. Now, if he suggests that we eat out, I go into mom mode. I think about where we can go that is kid friendly, what I need to pack in his bag for him to play with, what food I should bring in case he doesn't like what we order, not to mention scheduling the meal around naptime. Sometimes I just decide it isn't worth it and I make up a reason to stay home.
Finish the phrase, "I never thought I'd…"
Ever consider giving up being a veterinarian to stay at home. It took me years of hard work, not to mention thousands of dollars, to become a veterinarian. I love what I do, and before I became a mom being a veterinarian was how I defined myself. "Hi, I'm Lisa. I'm a vet." Then, after I had my son, I actually thought about what life would be like if I did stay at home. We certainly couldn't afford to lose the income, but that aside, I actually considered it. Now, I think of myself as a wife and mom, and then a veterinarian. To be honest, I couldn't imagine having to give up either one.
What is one kid-related item that you can't live without?
Books, books, and more books. Big ones, small ones, colorful ones. Books about animals, cars, Mickey Mouse, or Elmo. Even a few that make noise (although they stay at the bottom of the pile). We have kids books all over the house (including his bathroom), and in both cars. He loves books, and he loves reading with or without Mommy and Daddy there reading with him.
What is one toy you would love to mysteriously "lose"?
Electronic toys without a volume switch or an off button. We only have a few, and they stay hidden. He got a Winnie the Pooh electronic book for his first Christmas, and it was very loud, and he loved it. A few months ago the battery finally died, and we did not replace it. He can still turn the pages and read it, but it no longer sings over and over.
What is one of your best memories of playing with your child?
My son has always loved playing in the bathtub, so when we took him to the beach for the first time we knew he would love it. And he did. He floated in the pool for ages in a baby float with a floppy hat and tons of sunblock. The second year we took him was even better. He loved standing on the edge and jumping in for us to catch him. Seeing the look of pure joy on his face and hearing his laugh was something I will always remember.
What is your favorite children's book?
My favorite book when I was a kid was called My Doctor Bag Book. It was shaped like a briefcase with a handle, and it was a story about a little girl who carried a "doctor's bag" while she fixed scraped knees and leaking teddy bears for her friends. My favorite children's books now are Goodnight Moon and The Big Night-Night Book. They both have lots of things for my son to point at while we read them, and they both have a sing-song rhythm that help him wind down for bedtime.