We want to provide ideas, inspiration, and information for moms everywhere as we look at the world around us through MomColoredGlasses...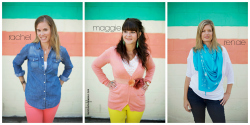 Popular Posts
Be Inspired
Not Found
Sorry, but you are looking for something that isn't here.
Be Whole
Not Found
Sorry, but you are looking for something that isn't here.
Be Informed
Not Found
Sorry, but you are looking for something that isn't here.
What is the age/gender of your child?
Georgia is 19 months old…..and she is a spitfire of a little girl!
What has been one of the greatest joys of motherhood?
I would say that one of the greatest joys of motherhood for me was simply becoming a mother.  It took a very long time and was a very winding road to get there and when we were paired with our birth parents, everything fell into place for me.  Having our birth mother place Georgia in her car seat on the morning that we took her home from the hospital, and look at me and give me one of the tightest hugs I've ever had while she cried to me that this is what she wanted and wanted for this little girl and she loved that she'd found us can't be paralleled.  It was and truly is a joy to have been entrusted to raise this amazing little life and have her call me mommy.
And aside from all that heavy stuff, I think one of my greatest joys, or the moments I find the greatest joy in is when we hole up in the house all day and I don't feel any pressure to get anything done and we just play silly games all day long, and jump on the bed, and watch Barney, and eat fruit snacks together, and look through magazines trying to find doggies, or bunnies, or kitties, or babies.  Just those simple little moments that I never thought I'd be a part of.
What has been one of the greatest challenges of motherhood?
Re-defining myself.  For ten years I was a very successful educator.  I wanted to be a school administrator with everything in me.  I love education and am so passionate about it.  I couldn't possibly foresee a day when that wasn't the path I was on.  And then…..Georgia was born, and that path was completely diverted by my own choice.  But even though it was my choice it didn't mean there weren't days when I wished that I could have both things.  But, I know myself too well and knew that I couldn't balance both things.  So, even though I made the choice to step away from the career path I was on, I still had to figure out what I wanted my big-picture to look like and after ten years of thinking it was one thing, that doesn't come easily or naturally.  And….I'm still working on it.
How has your perspective changed since becoming a mother?
I think more about the future and the ramifications that my actions will have on my daughter.  I didn't think a lot about the future before Georgia was born.  I just kind of lived my life and dealt with things as they came up.  But with Georgia, I'm constantly asking myself how decisions will affect her, impact her world-view, and help to mold her into the woman I hope she becomes.
Finish the phrase, "I never thought I'd…"
Have a kid with a crusty, snotty nose.  But some days I just get so sick of the fight and dramatics of trying to wipe Georgia's nose that I just surrender to snot and boogers.
What is one kid-related item that you can't live without?
Wipes.  And not just for the obvious reason.  I use them for runny noses, messy faces, myself, wiping down tables, and most importantly…..Georgia loves to play with them and can entertain herself for a long time with a handful of wipes.
What is one toy you would love to mysteriously "lose"?
The plastic fruit.  Only because I hear it crashing out of the basket about 20 times a day and I know I'm going to have to spend ½ hour each time on my hands and knees looking for missing fruit that's rolled under the changing table, behind the door, under the crib, or into the shoe bin.
How do you encourage initiative in your toddler?
As a teacher I made the decision a long time ago to praise my student's efforts, and the journey they had to take to get to an end result.  I wouldn't praise them for getting something done fast and quick, I wouldn't just throw out "oh, you're so smart" whenever I felt like it….I praised them for their hard work (if they were in fact working hard).  So, that's what I do with Georgia.  She's only 20 months old, but whenever she wants something that I know she can do herself but is acting like she can't, I tell her she needs to work hard.  You can do it.  I show her she can do it, but I don't always do it for her.  I want that phrase, "you can do it, you just have to work hard," to be ingrained in her.