We want to provide ideas, inspiration, and information for moms everywhere as we look at the world around us through MomColoredGlasses...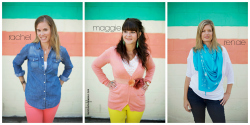 Popular Posts
Be Inspired
Not Found
Sorry, but you are looking for something that isn't here.
Be Whole
Not Found
Sorry, but you are looking for something that isn't here.
Be Informed
Not Found
Sorry, but you are looking for something that isn't here.
Yesterday we shared an interview with Andy Soper about the topic of Human Trafficking and the Manasseh Project, a program he started in the West Michigan area to help end the sexual exploitation of young people. We are also featuring Andy's wife, Marcy Soper as this week's MCG mom.  Why? Because she has also played a pivotal role in the development of the Manasseh Project AND because she is a super-cool mom! Keep reading to learn more about Marcy and the Soper family…
How do you spend your time? 
I was asked by another Mom on the school playground today if I worked out everyday. I glanced down at my "uniform" of yoga pants and a tank top and laughed. Sadly no, I do not work out everyday. However, I do know that once my feet hit the floor, they rarely stop moving until 8:30 – 9 o'clock. I have my morning routine down to a mad-dash science: kids all dressed and ready for school, beds made, breakfast eaten, dishes washed, a load of laundry started, and the mini van loaded all in less than an hour! Once my kids are successfully dropped off, depending on the day of the week, I have my Coffee/Mom group, yoga, running with a friend and our jogging strollers, grocery shopping, farmers market, library, volunteering for lunch/recess at school, volunteering as the room parent of my son's class, cleaning the house, making dinner and occasionally sneaking in that much needed work out!
What are the ages/genders/names of your children? 
Andy and I have four amazing kids. Louise Love is 9, Frances Fox is 7, Rocco Hold Fast will be 5 on the 28th of this month, and Veda Joy is 3.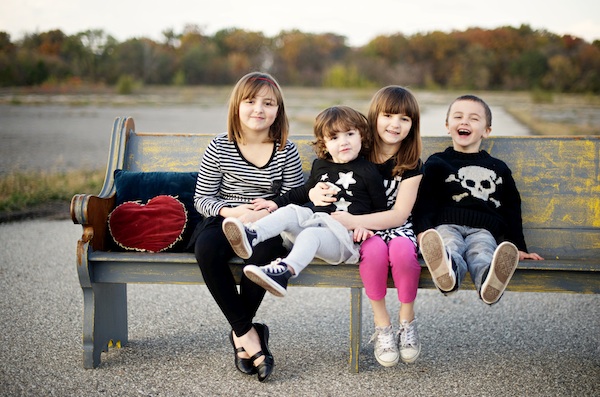 What has been the greatest joy of motherhood?
What is the greatest joy of motherhood? Besides bedtime?;) The sense of wonder and excitement kids get as they experience something for the first time. I love taking them places and doing things with them that I did as a kid. In a way, it's almost like getting to re-live my childhood over and over again.
The greatest challenge?
I would say that the greatest challenge goes hand and hand with my greatest joy. Andy and I talked with some friends last night about how we teach our children contentment. The constant need for more is overwhelming – especially with 4 children. Andy eloquently told them that until they have internal joy, nothing externally is going to satisfy! Unfortunately, I believe this will have to be something consistently modeled to them as we live in a culture where they are constantly bombarded with the message that bigger is better and are defined as people by what we consume.
What is one kid or mom-related item you can't live without?
The one thing that I could not live without is my jogging strollers. I have a single stroller that I got right before Louise turned one and a double that I got right after Frances was born. I have put so many miles on them both and still use them both once or twice a week. Nothing fixes a crabby child or mother like fresh air and a change of scenery.
How do you find time for yourself and what is your favorite way to relax?
That being said, my favorite way to relax is most definitely exercise. Our membership at the YMCA gives me free childcare for my kids for 2 hours at a time (and I could potentially do that twice a day)! I remember the first time I dropped all four of them off in their classes and headed up to the third floor by myself (I do believe I was grinning ?) . Aside from that, I have been blessed with a husband who can sense when I need extra time to myself and he sends me out kidless whenever it is possible. Even a trip to the grocery store can be lovely when you go alone! I had an aunt growing up who used to put on a dress and makeup before she went grocery shopping. It always seemed crazy to me then, but I totally get it now!
What has been your involvement in the Manasseh Project?
My involvement in the Manasseh Project has been mainly behind the scenes. I consider myself Andy's main cheerleader. I usually tell people when asked what I do that I give a lot of high-fives. When the idea was born it came from a mutual rather unspoken understanding between Andy and I that this was 'it'! This was the thing we had been praying about since the days before we were even married when we would so innocently pray the prayer asking God to break our hearts with the things that break his. Our hearts were successfully broken and we both knew without a doubt, "this was it." There would be no going back. The more we researched and read stories the more we were convinced that we could not walk away. We knew too much of both the realities of trafficking and the horrible statistics of the low number of beds designated to bringing healing and wholeness to a victim who had been rescued.
Finish the phrase, "I never thought I'd…."
I never thought that I'd be….praying, holding the hands of formally prostituted women asking God in a simple silent prayer for Namaste: the Divine in you recognizing the Divine in me!
How has your "mom perspective" changed since learning about human trafficking and its presence in your community? 
As I have learned about the realities of local domestic human trafficking my "mom perspective" has changed only in that I now notice things I would not otherwise have seen or thought of. In a way, I have given myself the 'mandatory reporter role" and I feel as though I am always looking for signs and symptoms that would indicate something is not right. I ask questions of the kids in the neighborhood that I would have never asked before. When I volunteer at the school, I feel like I am drawn more to the 'problem kids' – the ones that always seem to be struggling. As far as our own kids are concerned, they do not go to play-dates unless I know both parents very well, and when they play outside they are either together in the backyard or I am outside with them.
What do you think is the most important thing for "regular" moms to know about human trafficking?
Back in January Andy organized a conference on Trafficking. He brought in speakers from all over including a former state police officer who now works for Internet Crimes Against Children here in Grand Rapids. I remember sitting in his presentation with a friend of mine who is also a mom. Both of us sat with jaws dropped, tears in our eyes as we listened to him tell story after story of things he sees everyday happening here in our city. We both decided we would be locking our children up inside the house until they were old enough to come out safely. That, of course, being impossible, I would tell Moms to do their best to model healthy relationships so that their children can recognize fraudulent intimacy and to educate themselves about what the root causes are that drive exploitation. I don't think that the route Andy and I have felt called to is for everyone, nor do I feel that we need to allow fear to drive us, but as with anything else being on the defensive is always a safe bet!