We want to provide ideas, inspiration, and information for moms everywhere as we look at the world around us through MomColoredGlasses...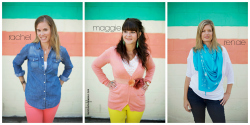 Popular Posts
Be Inspired
Not Found
Sorry, but you are looking for something that isn't here.
Be Whole
Not Found
Sorry, but you are looking for something that isn't here.
Be Informed
Not Found
Sorry, but you are looking for something that isn't here.
Yesterday, Kathy and Melinda from Mothering from Scratch shared their thoughts on being a mom on purpose.  Today, we learn a little more about them as everyday moms and the experiences they've had along the way.
1.  What have you learned the most about yourself since becoming a mom–the most surprising thing? 
Melinda:  How selfish I could be.  My needs frequently had to go on the back burner and I didn't like that too much.
Kathy:  How incredibly strong I can be; child-birth, nursing, staying up all night, etc. etc.
Both of us:  God has used motherhood to shape our character more than anything else.
2.  What is your greatest mom accomplishment? 
Melinda: Navigating the middle school years with my daughter.  It was the most exhausting and challenging season or our lives. We survived and still like each other–most days.
Kathy:  Getting a baby that would NOT breastfeed to nurse successfully after three months of pumping while raising three other children. It challenged me in a way that I have never felt and we made well into toddlerhood still nursing.
3.  Fail?
Melinda: When they were younger, I did way too much for my kids.  I enabled them to be dependent on me instead of finding independence for themselves.  For other moms that have done this, it is difficult, but you can turn things around.
Kathy: Not seeking help for depression and anxiety early enough to make a difference in my first two sons' infancies. Only being on the other side of this illness can I share what a difference good treatment can make in postpartum depression.  During those dark times I was almost incapable of taking care of myself, let alone others.
4.  What couldn't you live without as a mom? 
Kathy: My best friend Melinda
Melinda: Ditto
We would both be up a creek.
5. What about your kids makes you the most proud?
Kathy:  I love the fact that my kids love other children.  They are great with babies and toddlers.
Melinda: The fact that my kids grab life by the tail and enjoy it.
Both of us: Overcoming adversity–either physically or emotionally.
6. Who do you look up to as a mom role-model?
Kathy: Now that my kids are older, my mother-in-law.  She really "gets" kids at this age, especially boys.  She knows how to fully enjoy them.
Melinda: I admire a number of different aspects from women around me. I don't specifically have one that was a real mentor.  That has been difficult at times.
7. What do you think is one of the greatest challenges that face moms today?
Both of us:  A lack of mentors. People who are willing to share their wisdom and time with mothers.  We are so vital to the fabric of society, yet so vulnerable to criticism and lack of support.