We want to provide ideas, inspiration, and information for moms everywhere as we look at the world around us through MomColoredGlasses...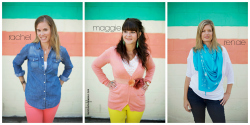 Popular Posts
Be Inspired
Not Found
Sorry, but you are looking for something that isn't here.
Be Whole
Not Found
Sorry, but you are looking for something that isn't here.
Be Informed
Not Found
Sorry, but you are looking for something that isn't here.
Check out Rachel's recent guest post Boy Mom 101 written in letter form to a friend who just birthed a baby boy…..and read more about Rachel below!
How many kids do you have?  4

What are their ages and gender?  All boys – ages 10. 8, 4, almost 2.
Who do you look up to most as a mommy role-model?  Right now two of my favorite mommy authors: Rachel Jankovic and Elyse Fitzpatrick
What is the toy you'd like to lose most? Toy guns that make noise AND all the nerf gun stuff, especially the annoying little nerf bullets that are everywhere in my house.
What is one parent battle you always swore you'd fight but you've given up? BK (before kids) I thought that I would never tolerate/allow a picky eater, until I got one (two actually). It is one of the most frustrating things about parenting to me, but I refuse to have a battle at every single meal so I wimp out probably more than I should just to get something in their bellies. 
What is one character quality you hope your kids inherit from your husband? Oh man. I hope they inherit everything from him! His calmness, patience, thoughtfulness and hard work ethic are so great! 
From you?  I love people so I hope they get that from me.
What 'parenting' invention couldn't you live without? Well, just lately I'm totally loving icloud where my husband and I can sink our calendars together to have an instantly updated schedule on our phones. It has completely helped us improve our communication and get everyone to the right places at the right times. I honestly don't know how we lived without it before…?
Finish this statement……Looking at the world Through Mom Colored Glasses means………that even on my worst, or my kids' worst days, I see them as precious gifts from God and a means by which He causes me to cry out in dependence and for wisdom.