We want to provide ideas, inspiration, and information for moms everywhere as we look at the world around us through MomColoredGlasses...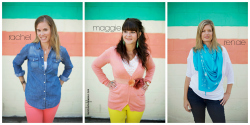 Popular Posts
Be Inspired
Not Found
Sorry, but you are looking for something that isn't here.
Be Whole
Not Found
Sorry, but you are looking for something that isn't here.
Be Informed
Not Found
Sorry, but you are looking for something that isn't here.
What are the ages/gender of your kids?
I have a six year old girl, a four year old boy, and a 22 month old girl. They are full of energy, questions, and giggles, and I love (almost) every minute I get to spend with them.
What has been one of the greatest joys of motherhood?
I get a huge kick out of watching my kids learn something new. Whether it is taking a first step, discovering snow for the first time, learning the ABCs, or jumping on one foot, I love to watch their eyes light up when they finally figure something out. Recently, my youngest figured out how to jump on our little indoor trampoline, and as I watched her jump up and down, hair flying and big grin on her face, I couldn't stop smiling.
What has been one of the greatest challenges of motherhood?
Learning how to balance my time between spending time with my kids and "everything else" is an ongoing struggle. I can't seem to break free from that feeling of guilt…either because I'm missing out on quality time or because the laundry isn't getting done. I try to be 100% present when I am with my kids and I try to limit the time I spend on chores, but that doesn't mean it is easy. I live for the days where I was able to cross a few things off my to-do list and I was able to sit on the floor with my kids and play "policeman" or "dance class" without being distracted by my e-mail.
How has your perspective changed since becoming a mother?
I remember the first time I went to a restaurant with our infant daughter. No longer concerned about the view or the decor, I was now more worried about whether I could nurse discreetly at our table or if there were changing stations in the bathrooms. As our kids have grown, I pay attention to kids menu items, how fast the food is delivered, and whether the background noise is loud enough to cover up a babbling baby. It's not just with eating out where my perspective has changed; I look at everything differently. Safety…media…breakfast food…exercise…nothing is exempt…
Finish the phrase, "I never thought I'd…"
I never thought I'd be "that mom"..you know, the mom with a kid throwing a tantrum in the middle of Barnes & Noble where you either feel sorry for her or wish she would have kept her tantrum-throwing kids at home. I have actually seen the workers at our local library visibly cringe when I walk the troops through the door and they exuberantly dash to the children's books area.
What is one kid-related item that you can't live without?
One thing we use on a daily basis is our Pottery Barn Kids Carolina play table. It sits in a corner of our kitchen by the art supplies, and the kids use it constantly to color, do sticker books, play with play-dough, and even use it to make a tent.
What is one toy you would love to mysteriously "lose"?
There are a few electronic toys that will spontaneously start playing obnoxious children's songs while we are trying to relax at night. If I actually could track down the offending toy in the bottom of toy box, I would love to kick it to the curb.
How do you encourage imaginative play in your kids?
The best imaginative play in our house usually happens when I am busy cooking dinner. I am still nearby for help building tents or for mediating arguments, but they have to take the lead and create their own crazy situations. Usually it starts with constructing a boat or tent and packing in all sorts of "supplies". Then they take on the roles of siblings, parents and kids, or teacher and student. I always know that some sort of wild ride is in store when my son says (emphatically) to his sister, "…probably you will be the mom and I will be the kid and Sissy will be the cat!"