We want to provide ideas, inspiration, and information for moms everywhere as we look at the world around us through MomColoredGlasses...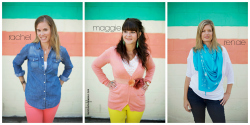 Popular Posts
Be Inspired
Not Found
Sorry, but you are looking for something that isn't here.
Be Whole
Not Found
Sorry, but you are looking for something that isn't here.
Be Informed
Not Found
Sorry, but you are looking for something that isn't here.
What are the ages/gender of your children?
I have one son named Elliot who is 16 months old.
What is your working situation?
I currently work part-time (two days a week) as a Nurse Practitioner at a family practice clinic and work full-time doing everything else!
What has been one of the greatest joys of motherhood?
Watching Elliot grow and develop over the past 15 months has been incredible!  I can't believe that tiny little newborn swaddled in my arms is now running around saying "mama" and giving me slobbery kisses. And, there is truly nothing better than hearing your own child's laughter.  It's the best sound in the world!
What has been one of the greatest challenges of motherhood?
Worrying. Worrying about the well-being of your child is like nothing I have ever experienced before. We are so blessed to have had so few problems up to this point, but I still can't let go of all the "what-ifs".  I've spent many nights awake intensely praying for my son's health, safety and happiness, sometimes paralyzed by fear.  Slowly, I've been learning how to trust God with these fears and accept what I can't control, though this is very difficult.
How has your perspective changed since becoming a mother?
I used to be one of those people who rolled their eyes in restaurants and other public places when I came upon a kid crying, yelling or generally having bad behavior.  Now?  I understand….yes, I understand now.
Finish the phrase, "I never thought I'd…"
Listen to kid-music.  I had great plans for Elliot's musical education.  He was going to listen to a wide range of music including jazz, classical and mommy's favorite indie rock bands while all those baby music CDs from his baby shower gathered dust in the closet.  While I haven't found music that Elliot doesn't like, nothing elicits smiling and dancing like the Best of the Wiggles CD. Long car trips?  The Wiggles again is the absolute favorite (for mom and dad too for reasons I don't have to explain).  And, you know?  Those four guys from Australia have written some pretty catchy tunes.  Barney, on the other hand, is another story…
What is one kid-related item that you can't live without?
The Best of the Wiggles CD.  (see above)
What is one toy you would love to mysteriously "lose"?
I would instantly recognize, by her voice, the woman who sings songs for all the Fisher-Price electronic musical toys….her voice haunts me!  I would gladly remove all the batteries from these toys if Elliot didn't love them so much!
How do you keep your family focused on the things that are important?
My husband and I are trying to adopt regular "business meetings", (have to thank my sis for this idea) which are scheduled times for discussing issues important to our family such as finances, vacations, parenting strategies and goals.  These meetings have helped us to prioritize and better focus on our current objective, whether it is saving for a larger vehicle or determining how much, if any, TV Elliot can watch.  Often the most important topics don't come up in casual conversation, so scheduling and making an intentional effort has been very effective for us.  Plus, I don't really want to discuss topics like our retirement fund on cherished "date-nights"!