We want to provide ideas, inspiration, and information for moms everywhere as we look at the world around us through MomColoredGlasses...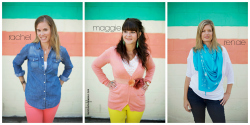 Popular Posts
Be Inspired
Not Found
Sorry, but you are looking for something that isn't here.
Be Whole
Not Found
Sorry, but you are looking for something that isn't here.
Be Informed
Not Found
Sorry, but you are looking for something that isn't here.
We are excited to announce that Sara from Suburban Sense will be joining MomColoredGlasses as a monthly contributor. She lives with her family in Virginia and according to her website, blogs to "maintain my good sense and hopefully help others make sense out of their lives too." We all need a healthy dose of good sense, so check out her first column!
What are the ages/gender of your children?
I am lucky enough to have two little ladies – "Emily" is 3 and "Allie" just turned 1 in February.
What is your working situation?
My job titles range from SAHM (Stay-At-Home-Mom), CHO (Chief Household Officer), to just Mom. Also, in my "free" time I've started to blog myself. You'll see some of my "stuff" here at MCG in the Suburban Sense Column.
What has been one of the greatest joys of motherhood?
It's hard not to say something really cliché here but motherhood does that to you! Probably the greatest joy for me about being a momma is the indescribable unconditional love that I feel for my girls. And amazingly, they give that love right back to me.  I'm their biggest fan, and they are mine.
What has been one of the greatest challenges of motherhood?
If I'm being honest, there is a new challenge everyday. But for me, I'll selfishly admit the greatest challenge thus far has been for me to compromise some of my personal plans and keep my focus on my girls. The scale is rarely ever in balance long when you're a parent as there are so many "other" things that require attention.
How has your perspective changed since becoming a mother?
Wow, has it ever! I look at things completely different now. For example, before we had our girls we got these beautiful stainless steel appliances. Big mistake! Yes, they look fabulous, but they aren't quite the same when they have patty prints and mouth prints (I think metal tastes good to teething babies, either that or they amuse themselves in the reflection) on them. Now, everything is about the girls! Oh, and early bird specials aren't just for senior citizens, they are also for families with small children; when we eat out, we go early.
Finish the phrase, "I never thought I'd…"
Eat food that comes back out of my child's mouth or has been on the floor. I feel kind of grossed out writing this, but it's true. I'm guilty.
What is one kid-related item that you can't live without?
I can find these at Meijer or in bulk on Amazon, but I am in love with the Pampers clean-n-go wipes. They wipe away germs and are safe and gentle for hands, little bottoms, and faces. So you don't have to drag different types of wipes around, these are a catch-all! I also use a lot, I mean A LOT, of Clorox wipes around the house now too.
What is one toy you would love to mysteriously "lose"?
I think this is highly ironic, but my older daughter has this computer that she plays with, all the kids love it because it's full of all these colorful buttons and it has a mouse, etc. But the volume control is broken on it so it only plays at one volume – LOUD. The ironic part is that Emily always goes and gets on her computer when I'm on mine…
What is one of your best memories of playing with your child?
It seems like there's a great memory every day! But recently, we took the plunge and got a mini-van. On a rainy day as we ran to the car, Emily hopped in as I buckled in Allie, and suddenly I realized I didn't need to stand in the rain anymore, that I could actually get in the car. So I did, and then for whatever reason we thought this was hilarious and I did a little happy dance and we all laughed hysterically. Ah… it's the little things.
How do you encourage imaginative play in your child?
This is easy! Imagination comes easy to children, so Emily needs little encouragement to use her imagination. I don't know exactly how I encourage it other than I play along. We make our coffee table ottoman into a boat by "riding" inside. We make masks using stickers and other silly things. Every day is a fun new adventure.