We want to provide ideas, inspiration, and information for moms everywhere as we look at the world around us through MomColoredGlasses...

I know many of you have already started your back-to-school schedules, but my kids go back to school next week, and I am having mixed emotions. On the one hand, I am getting a bit tired of having to get everything done in five-minute increments in-between meeting the needs of three very busy kids. But on the other hand, I get all choked up when I think about not having all of them around all day, especially when they do things like…
It truly has been a summer to remember, and I hope that you take a few minutes to soak up those last few "free" days over the long weekend. I know that is what I am going to do!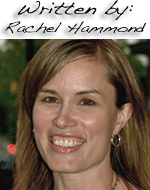 Read more about Rachel's crazy life at Circle of Quiet.