We want to provide ideas, inspiration, and information for moms everywhere as we look at the world around us through MomColoredGlasses...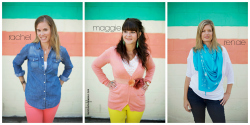 Popular Posts
Be Inspired
Not Found
Sorry, but you are looking for something that isn't here.
Be Whole
Not Found
Sorry, but you are looking for something that isn't here.
Be Informed
Not Found
Sorry, but you are looking for something that isn't here.
When I was pregnant with our first, we shopped and shopped for a glider to go in the nursery. I felt like Goldilocks as I sat in chair after chair…too hard, too fluffy, too scratchy…until I finally found just the perfect one. It was comfortable with padded arms, and as I rocked back and forth, I imagined what it would be like to hold a baby in my arms in that very glider.
Over the next eight years, that glider sat in the dormer nursery of our 1950's house. As I anticipated, I did hold all three of my babies as I rocked, nursed, and read stories to them as they grew from infants to babies to toddlers. Middle of the night feedings, backlit by only a small nightlight, where I would sometimes doze off nestled among cushions, Boppy, and baby. Bedtime stories, pulled from an overflowing basket of books next to the glider, my favorites featured predominantly at the top of the pile, so they would pick books like Bunny Cakes instead of Fox in Socks. Post-nap snuggles, with a toddler and warm blankies tucked under my chin, rocking in the filtered light coming through the blinds.
When we moved a couple of years ago, the glider became an audience seat in front of our new kid stage area. I thought about getting rid of it, but I just couldn't. It still had a purpose, and it felt like too much of an integral part of our childrearing. But then my sister moved back to town and was going to have a baby. When she asked about our glider…or when I brought up the idea…I can't remember who thought of it first…I was thrilled. It was going to hold babies again, this glider of ours, now hers.
I was at her house last week, and her two-month-old was having a rough day. He needed sleep, so I insisted on taking a shift on rocking duty. Tucking him into the crook of my arm, I walked into the nursery and saw the glider. It was in the corner of the room, with a shelf full of books situated right next to it. There was even a small pile of board books on top, remnants of a morning read. I sat down with a sigh, sinking deeply into the cushions.
My muscle memory was palpable, every moment I had spent in the glider with my kids rushing back as I rocked. The soothing, the snuggling, the ever-so-long days and lightning fast years as they grew from a baby who fit in between my hand and elbow to a child who just didn't fit on my lap anymore. I buried my teary eyes into his soft head, and we rocked, he and I, back and forth…back and forth…until he drifted off to sleep.