We want to provide ideas, inspiration, and information for moms everywhere as we look at the world around us through MomColoredGlasses...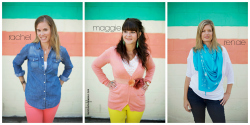 Popular Posts
Be Inspired
Not Found
Sorry, but you are looking for something that isn't here.
Be Whole
Not Found
Sorry, but you are looking for something that isn't here.
Be Informed
Not Found
Sorry, but you are looking for something that isn't here.
If you have not seen the video that Always posted on at the end of June, take three minutes…
Basically, the video asks older kids/teens to show them how to run or fight or throw "like a girl". They flailed, they giggled, they shuffled…all the stereotypical responses to the phrase. Then they ask younger girls the same question. The response was night and day; the young girls didn't even hesitate as they sprinted across the screen, punched it out, and whipped an imaginary ball towards the camera. Then they made the statement that confidence plummets at puberty, and that the negative connotation of "like a girl" sends them into a tailspin.
Whether you thought it was just another "feminist overreaction" or truth-telling, it definitely spurred a reaction…and over 20 million views on YouTube.
As for me? I watched it a few days ago and BAWLED big drippy tears that streamed down my face and onto the edge of my laptop. All I could think about was how my daughters would respond. So I asked them to show me how to run "like a girl"…
Fiona, my precocious five-year-old? She took off across the room like a flash. "Like this, Mom?" she yelled back to me. "Yep…just like that, kiddo!", I called back.
Madi, my nine-year-old who is on a crash course with puberty? She said to me, "I don't get it, Mom. Are you saying that girls run differently?" "Nope", I answered, "just run like you." So she did…around and around the island in our kitchen with a big grin on her face.
Can I bottle up that confidence and bring it out in a few years? Or maybe I need to hide them away so they aren't inundated by the careless comments and unrealistic media images?
Kelly Wallace of CNN wrote about the video and took it a step further to talk about ways that we can bolster our kids confidence. It's a great story, with her own personal twist, and she even quotes me! See what I had to say about confidence-building in our house here…
…and next time you see your daughter being confident and strong, tell her that being #likeagirl is an amazing thing to be!