We want to provide ideas, inspiration, and information for moms everywhere as we look at the world around us through MomColoredGlasses...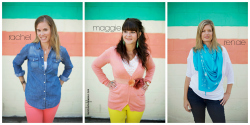 Popular Posts
Be Inspired
Not Found
Sorry, but you are looking for something that isn't here.
Be Whole
Not Found
Sorry, but you are looking for something that isn't here.
Be Informed
Not Found
Sorry, but you are looking for something that isn't here.
I stepped into the glass box sticking out of the 103rd floor of the Willis Tower in Chicago. It was surprisingly hot, even though the outside temperatures were stuck at a frosty 20 degrees. I looked out first, and then down at my feet standing on the transparent surface. It was surreal to peer through my toes down the sheer side of the building…down…down…down to the street below. The cars looked like ants scurrying across the pavement, so far away from our perch on "The Ledge".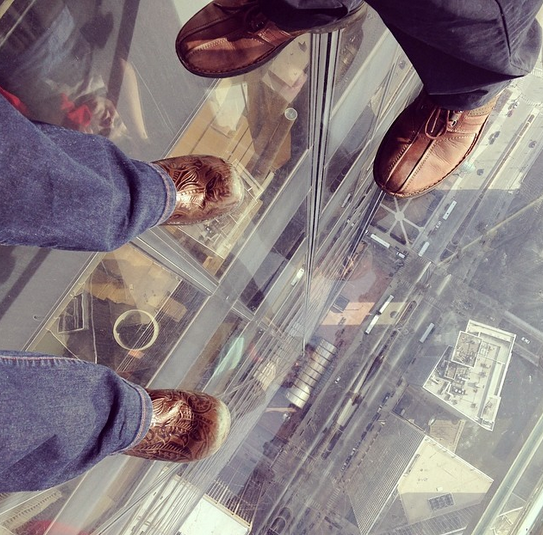 We had spent the entire weekend tromping around Chicago, bundled up against the cold, putting one foot in front of the other to get to our next location. I had spent more time looking at cracked sidewalks than at the tops of buildings, and now, the rooftops were all we could see.
Sometimes it is a physical change that changes your perspective, like us at the top of the Willis Tower. The buildings that loomed so large above us as we walked down State Street now seemed insignificant from our perch. The city blocks that seemed never-ending from below ended abruptly at Lake Michigan and quickly faded into side streets and suburb parkways.
Perspective changes can come in other ways too. I  think of a friend who brought home a baby girl from the hospital over the weekend. A family of four becomes a family of five, and all of a sudden, the world looks different…smaller, even. When you have a newborn, your perspective shrinks down to the immediacy of that baby's needs…sleep, eat, rock, and repeat. 
Sometimes it is a decision that changes your perspective. I have been thinking a lot about my decision to pursue my PhD, and how my perspective has to change. My husband told me over the weekend that I need to dump out my schedule and make sure my degree program gets put in at the beginning, instead of shoved in the leftover cracks of time. I'm not sure I know how to do that; how to cut apart my life and piece it back together in a way that I will be able to manage.
And sometimes perspective changes slowly, like the movement of the sun from east to west. You don't notice it changing, but seemingly all of sudden, the sun is hovering above the horizon in a purple blaze of light. I think about the last 12 years of marriage that way. You don't think anything is changing, but then you sit down and really think about what you were like when you got married, and you barely recognize yourself. What happened? What changed?
Perspective.
We headed back down the way we came, elevator after elevator, until our feet were back on pavement again. Before I flipped up my hood against the cold, I stopped, just for a moment, to look back up to the top of the tower. I didn't want to forget the view from the ledge. I didn't want to lose sight of my perspective.
It's that important.