We want to provide ideas, inspiration, and information for moms everywhere as we look at the world around us through MomColoredGlasses...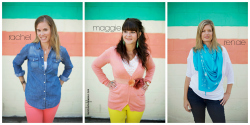 Popular Posts
Be Inspired
Not Found
Sorry, but you are looking for something that isn't here.
Be Whole
Not Found
Sorry, but you are looking for something that isn't here.
Be Informed
Not Found
Sorry, but you are looking for something that isn't here.
Jessie Bash guest posts for us today!  She recently moved back overseas to Singapore with her husband Brian, and two young children, Zach and Emily.  She is grateful for the lessons her American kids will learn living in a vastly different culture, but is also acutely aware of the challenges.  Today, she shares what raising kids overseas has to offer.
*************
I ran into a mom this morning. We both wandered into a fish store that wraps itself around an escalator at the basement level of a mall. Two blonde boys about the same height quickly went from tank to tank, desperately wanting to put fingers in to see if fish were hungry. Two little sisters trotted along behind, one blonde, one brown and bobbed. I looked at the mom, "Our kids look about the same age." I didn't know if she spoke English, but I am blessed in that most Caucasians here in Singapore speak at least a little. "Yeah, they do. My son is almost 5." American. Then we did the "How long have you been here? Where are you from? Where do you live?" conversation that is terribly familiar. Turns out she's from Michigan, my home state. They actually lived in Midland which is near where Brian grew up. On top of that, they are considering putting their son into the same International School as we have just enrolled Zach. Both blonde boys would start Kindergarten in the fall. We quickly exchanged numbers and talked about getting together next week. One comment made me think, though. She said, "We're here doing the typical expat thing."
I really have no idea what that is. Will have to ask her what it means to her. For me, living overseas with my husband and kids is a learning adventure. It's something we wanted since it was snatched away from us with a job loss back in 2008.
Zach was born in Hong Kong during the time Brian's job took us to Macau. We were thoroughly excited about the possibilities in store for our son. Then, 6 weeks after his birth, Brian lost his job, we ended up back in the USA and eventually outside of Washington, D.C. I am incredibly thankful for the 3 ½ years we spent there. Amazing neighborhood and Christian community; exactly what we needed when we needed it. But the entire time we were in the USA, our hearts ached and we felt like our kids had missed an opportunity.
Then, Singapore called and we were off on our adventure. It's not all peaches and cream. A lot of the adjustment process is messy and emotionally draining. This move has brought the personalities of my children into the spotlight. Zach is cautious, not wanting to try new things, fearful, an astute observer. Emily is full force, 150% energy. She will glaze over details because she's in such a hurry to get into the action of things. But we're here and I can begin to breathe and enjoy what it means to "do the typical expat thing" – whatever that is – because for us being an expatriate family means we rub shoulders with people from all around the world. Our Mum & Tots group has six or seven countries represented. Our church has people whose skin color spans the rainbow. The school Zach will attend has students from over 70 countries. My kids will learn acceptance of all people.
I love hearing the different styles and methods of parenting. I've never thought the USA had the corner on raising children. When I was expecting Zach, I breathed a sigh of relief that I was far away from the USA. He slept on his side from day one and SURVIVED. He didn't have the perfect nursery with all sorts of things from a registry and toys coming out his ears. He had what he needed – loving people from around the globe who would hold him, love him, and speak to him in whatever language they knew. Living overseas means my kids will learn the true meaning of love and living in community.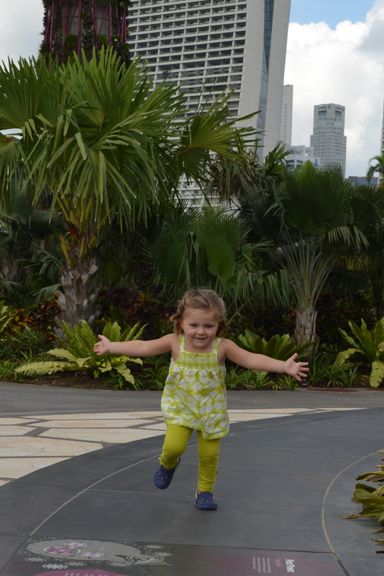 I love that church for my kids will be more about the people than the building. Our current church meets in a small mall near Chinatown. There's a American Football League on the floor where we have our refreshments. There's a Korean BBQ place downstairs. They are learning that Australians, Filipinos, South Africans, Dutch, Chinese, Americans, British, Canadians, Kenyans, Malaysians, and Singaporeans love the same Jesus they sing about. They will learn that Jesus isn't American.
I love that we take public transportations. This isn't because it's easy. It's not, and my children are not angelic little robots who mind my every word. But, I believe having to rely on public transportation is building patterns in my kids that they will take with them their whole lives. For instance, they aren't in control. They have to wait for the train or the bus. They can control getting to the train station, but they can't control the train, how crowded it is, or if it works 100% of the time. They have to behave and respect the mode of transportation and the people around them. As much as I believe in the individual and enjoy the ease of having my own wheels in the USA, there's something about the group mentality of Asians that's refreshing – you must look out for the person beside you. I love seeing a student glance up and see me with my kids and promptly stand up and offer me their seat. I see students do this with elderly people too. It's graciousness, it's fighting self-absorption. I love hearing my kids' little voices sing "Jesus Loves Me" or "Twinkle, Twinkle" as we ride. They will learn patience and how to occupy themselves.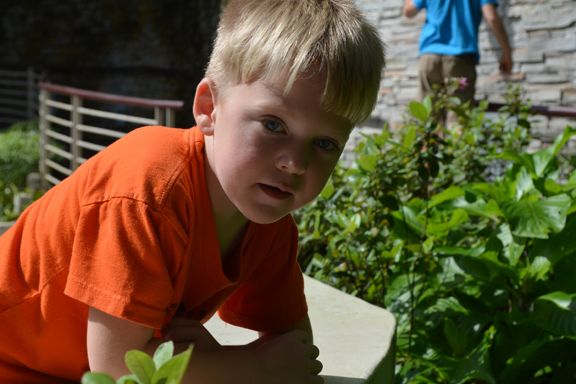 I've been struck this week by the spiritual battle of raising my kids here. From our balcony I can see a mosque and we walk by a man daily who has his idols and burns his incense as he tells fortunes. Religion is very much in our faces and my kids will need to learn the Truth in order to fend off what is false. I will have to fight daily for the hearts of my children. This really isn't very different than the US, but the spiritual side of life is more evident here despite Singapore's 1st world status and glitz. My kids will learn that we don't wrestle against flesh and blood, but against principalities. I pray that they learn to love the people who are caught in the middle of this ongoing battle.
I dearly miss our families back in the USA and my kids miss them too. Just the other day we created a chain to show Zach and Emily how long until Grammy and Poppa arrive. They were ecstatic – literally jumping up and down hollering, "I'm so happy!" Then Zach stopped jumping, and tears welled up as he said, "But I'm sad too because all my other friends aren't coming." I hugged him because that's one of the hard things of being overseas. There are lots of goodbyes. Reunions are sweet but short and goodbyes really don't get easier. I pray that my kids learn that true friendships can span the globe. I pray they also learn to look forward with great joy to heaven where there will be no more goodbyes.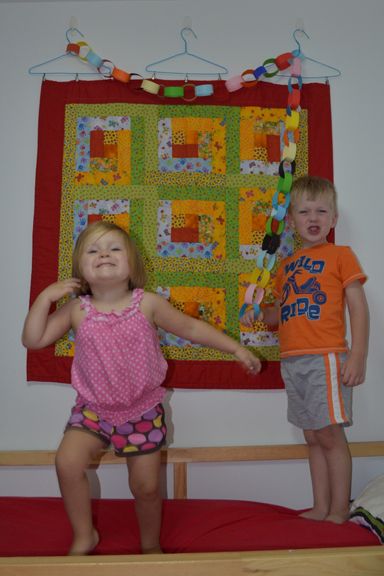 Perhaps God will keep us here for many years. Perhaps he will move us again. Perhaps we'll move back to the USA and these lessons will be learned in a different way. I don't know. It's like the train and the bus, I'll let the driver do the driving and go along for the ride. I'll just show up with my bag packed and a good attitude. Raising kids overseas will stretch me in ways that being in my home environment wouldn't. I pray that it will make me a better parent as we share this huge adventure.