We want to provide ideas, inspiration, and information for moms everywhere as we look at the world around us through MomColoredGlasses...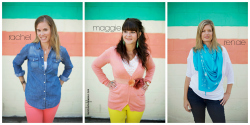 Popular Posts
Be Inspired
Not Found
Sorry, but you are looking for something that isn't here.
Be Whole
Not Found
Sorry, but you are looking for something that isn't here.
Be Informed
Not Found
Sorry, but you are looking for something that isn't here.
If you've ever gone out looking for books on adoption for kids, or adults, you know that the pool is tragically shallow when it comes to good ones.  And even if you hear of a good one you usually have to special order them…..far be it from the book stores to actually stock them on their shelves, because who would ever be in the market for a book on adoption?–but that's a tangent for another day I think.  Over the course of the last two years I've been given and have purchased a lot of books for Georgia on adoption.  Some of them I've read one page of and thrown away and some of them I've cried while I read, knowing I found a truly valuable book.
Here's the thing.  I don't want to read a book to Georgia that infers that her birth-parents are terrible, horrible, broken, sad, miserable people.  And you know what?  Even if they were (which they are not and couldn't be more opposite of all the words I've listed above) I wouldn't want her to grow up thinking that.  I wouldn't want her to think that she is a product of dysfunction and pain–that's a heart-breaking idea that could have a lasting impact on anyone who thinks it about themselves.  And the choice that a birth-parent makes when they choose adoption for their child is the antithesis of dysfunction and pain–no matter who they are, because the end result is anything but.
However,  the sad thing is…….SO MANY of the children's books I've read on adoption have that message woven into the story; "from a world so broken and torn," "when no one else would be your mommy I would," "a baby without a home,"…….. and the quotes could go on and on.  I should have kept track of all the ridiculous ones I've read during the last two years.
Anyway–I wanted to provide for you a short list of the best ones I've found.  These are books that you could buy yourself if you're going through the adoption process or that you could get as a gift for someone else and have no fear that there was going to be anything insensitive or misleading in them.
1.  Little Miss Spider by David Kirk.  This is an innocent little story that you might not even realize is about adoption until the very last page.  Little Miss Spider falls out of her nest upon birth and can't find her mother.  She asks a cast of characters if they've seen her and they all say no.  However, Miss Beetle Betty agrees to help her look and in the end asks Little Miss Spider to live with her.  And as Miss Beetle Betty says, "For finding your mother, there's one certain test….You must look for the creature who loves you the best."  I love this book because of that last page–just a simple idea to ingrain in your adopted child that it doesn't matter if you look like me, act just like me, come from far away, or from down the street–your mom and dad are the ones who love you the best.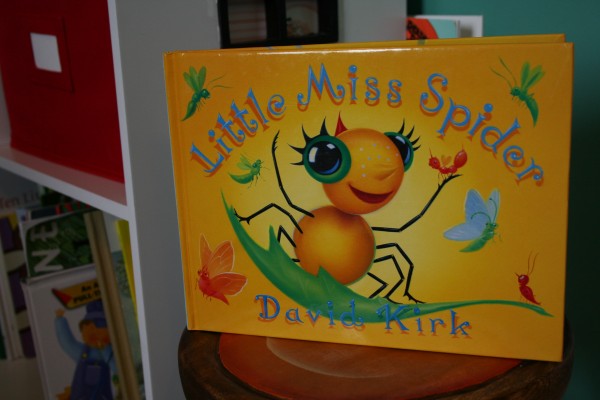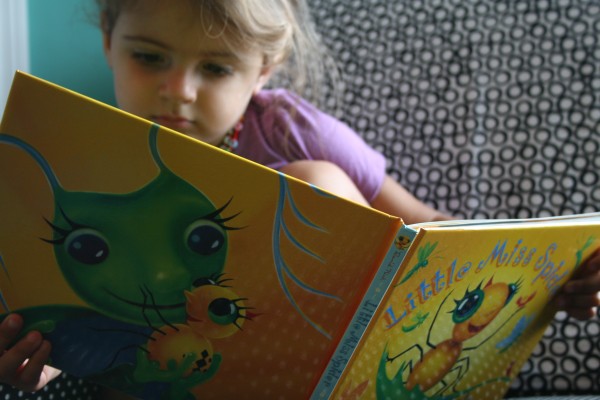 2.  It's Okay to be Different by Todd Parr.  Todd has a lot of great books that talk about different situations in life.  The illustrations are simple graphics, full of great color that are very appealing to kids.  The writing per page is also minimal which works well for a short attention span.  Now, I (obviously) don't know Todd but I'm assuming he had no intention of this being thought of as an adoption book, but I think of it that way.  The books lists a whole bunch of different things kids might have to face and they are all okay; it's okay to wear braces, be in a wheelchair, be tall, short, say no to bad things, be proud of yourself, be adopted, eat macaroni and cheese in the bathtub, etc., etc.  The idea of being adopted is buried in a list of a lot of other things (some a big deal, some not) that it's just plain okay to be.  It doesn't make adoption seem heavy, sad, contemplative, super serious, or somber–it's just something else that might make you a little different from someone else and it's just flat out no big deal.  It's exactly the way that I want Georgia to think of her adoption.  Whenever we read this we stop at the page that says, "It's okay to be adopted," and we cheer and shout, "because Georgia's adopted," and then we move on quickly and just keep reading.  Sometimes I forget to do the cheering thing and Georgia stops me and makes me do it.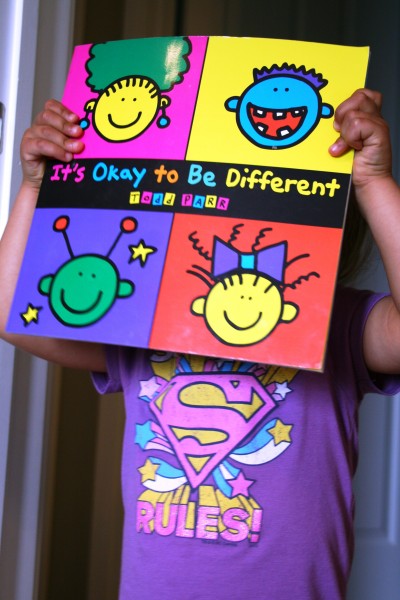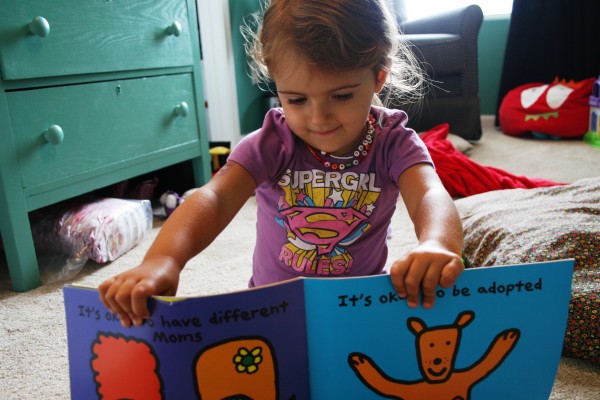 3.  I Wished for You….An Adoption Story by Marianne Richmond.  So clearly, this is explicitly an adoption story.  This books centers around a mommy bear and her little boy and each page deals with some aspect of a child understanding their adoption–in a very positive way.  There is no mention of the world in which little Barley was born being terrible and horrible and depressing.  One page talks about how long mommy wished for a baby, another talks about why some mommy's and babies don't look alike, then there is a page (my personal favorite) about why a birth mom would decide to give her baby up for adoption, still another talks about how long the adoption process could take, and there is even one that addresses the idea that not all wishes always come true.  It's a great story and even though I do read it to Georgia it will probably be more meaningful as she gets older and actually understands the concepts.  Either way–it's a great read for a little one.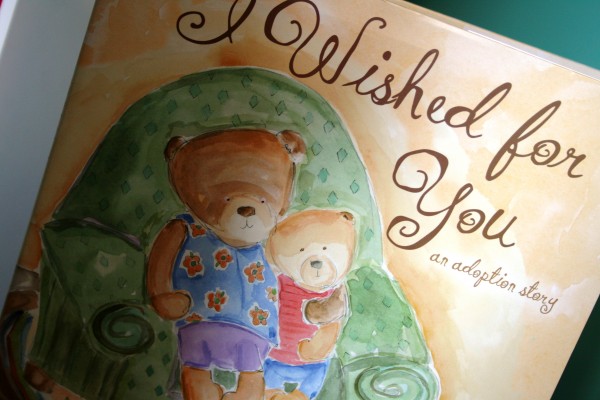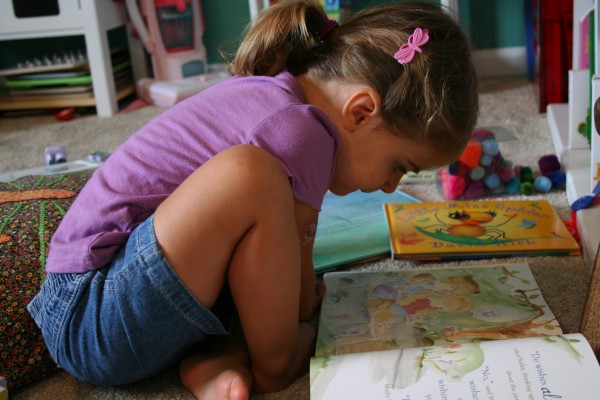 I have a friend who has also adopted two children and something important I've learned from her when it comes to reading these kinds of books to your children is that you can't force it.  You can't deliberately always pick up these adoption books and read them.  They need to be a part of the regular rotation of all the other books you read together–otherwise you're making the idea of adoption seem weird and "un-fun." Georgia regularly asks to read Little Miss Spider and I always do when she asks–that's what you want….it needs to be their idea.
And here's a little freebie for you moms that just need a good laugh about coming to terms with adoption if you're still working on that…..The Baby Trail by Sinead Moriarty. This chronicles one woman's journey through infertility and is hilarious.  I actually laughed out loud on numerous occasions while reading this and one night I had to get out of bed and read in the living room so I wouldn't wake up my husband.  If you've ever had a hysterosalpingogram while going through infertility treatments it will speak volumes to you when I say the description of this procedure in the book almost made me wet my pants from laughing–yep…..that's how funny it is.  Anyone that can make that little slice of hell remotely funny is a good writer in my book. Unfortunately, I don't have any pictures of myself reading this book.  I should have had the forethought a few years back while I was leaning over the bathroom counter giving myself hormone shots to snap a picture of myself flipping the pages of The Baby Trail.  What kind of writer am I?  I've got to start thinking ahead more I suppose.
If you know of any other great adoption books for kids let me know….and the rest of us!  Leave a comment below and let us know what you like and why you liked it.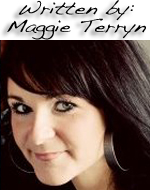 Visit my other on-line home at apairofpinkshoes.blogspot.com