We want to provide ideas, inspiration, and information for moms everywhere as we look at the world around us through MomColoredGlasses...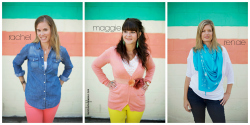 Popular Posts
Be Inspired
Not Found
Sorry, but you are looking for something that isn't here.
Be Whole
Not Found
Sorry, but you are looking for something that isn't here.
Be Informed
Not Found
Sorry, but you are looking for something that isn't here.
There are so many incredible on-line shops out there.  My wallet knows it.  And thankfully, I've been able to find some must-have adoption items in all of my on-line shopping.  I thought I'd share some of my favorites with all of you in case you know someone who just brought a baby home, is about to have a finalization hearing, or is celebrating an important adoption milestone.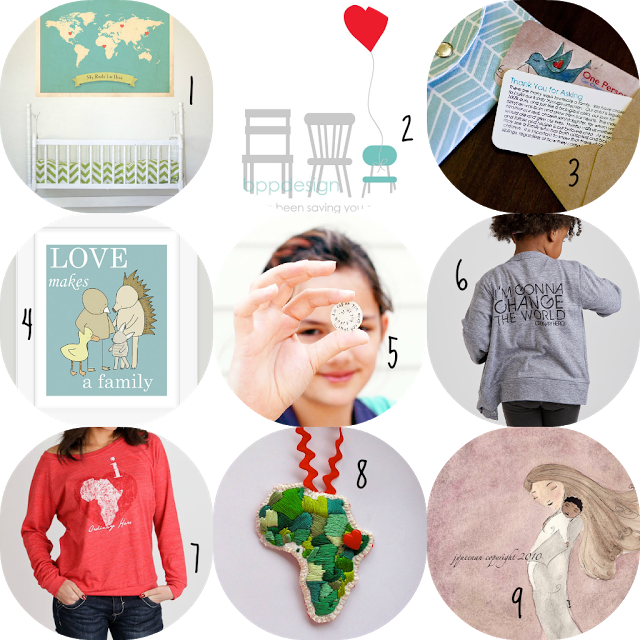 1. This is truly beautiful. And while it could be applied to any family, I think the meaning it would hold for adoptive families is especially important.
2. Ahh. I love this print. Give it as a gift, buy it for yourself, hang it in your babies bedroom, or right smack in the middle of your living room because it makes you so happy. Ashley Ann Campbell, one of my favorite bloggers inspired this print last year when her family was waiting to bring their daughter home from China.
3. These are one of those, "Why didn't I think of that?" ideas!! These little cards tell the story of adoption and how amazing it is to everyone who asks you.
4. Yes! This is awesome. Don't you think?
5. I wear this everyday. I had the Etsy shop owner punch a hole in it for me, put it on a jump ring, and I wear it as a necklace. Georgia knows what it says, she asks me to read it to her a lot and I think she's starting to understand what it means; that she grew in my heart and not under it. I've given it as a gift to other adoptive moms as well. It's one of my favorite adoption "things" that I have.
6. Ordinary Hero Cardigan. If you don't know about Ordinary Hero–read up on them when you visit their online store! A fabulous organization that exists to change the world for children in need.
7. Also from Ordinary Hero. I have a lot of friends with amazing babies from all over Africa and I think this shirt is pretty cool.
8. This is just so beautiful I think. And again……such a great gift idea if you know someone who's adopted from Africa. And the rest of this shop-owners stuff is amazing too!
9. I'm falling in love with this woman's adoption art. It is sweet, and powerful, and gentle all at the same time. She has an incredible talent of translating the feelings of adoption into visual representations.
Visit my other online home at apairofpinkshoes.com