We want to provide ideas, inspiration, and information for moms everywhere as we look at the world around us through MomColoredGlasses...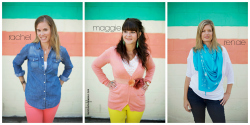 Popular Posts
Be Inspired
Not Found
Sorry, but you are looking for something that isn't here.
Be Whole
Not Found
Sorry, but you are looking for something that isn't here.
Be Informed
Not Found
Sorry, but you are looking for something that isn't here.
So far, Rachel has covered a number of important topics when considering heading back to "work" — work outside your home that is. Rachel and I have commiserated, er, discussed how daunting the thought of re-entry actually is. One of the things I have always thought I would definitely need to rely on when thinking about getting a paid job is networking.
Sometimes cliches get old, but they come about because there is a good amount of truth behind them. When I think about, kicking off my mom jeans and tossing my TOMS aside, I think that in order for me to get back to work it's about who you know and not necessarily what you know.
Let's get down to brass tacks, once you figure out what you want to do, or have a vague idea of "areas" of work you are interested. Start thinking also of ways to connect to people who may know people, who may be able to help you…For example, what are ways you can get your resume on the right person's desk, or have someone mention your name to a key decision maker, or even alert you to a possible opportunity. I began to brainstorm networks that one should tap into once on the hunt for a job:
As far as networking goes, we'd be proving how long we've been out of it, if we didn't discuss social networking. If you aren't doing it, sign up…. I'm talking about twitter, facebook, and probably most importantly, LinkedIn. Even if you don't want to advertise your own "happenings" on Twitter or facebook, you can follow businesses that you are interested. I know for a fact that companies use their social networking sites to advertise job opportunities and seek out new applicants.

LinkedIn is the social media tool created for networking on the business front. You can create an online resume and profile and let people know what your goals are. You can connect with people you have worked with in the past and people you are connect with now, through your kids' school, soccer team, church friends, etc.
 It's funny how sometimes you know people in the context of Mrs. Smith's 4th grade class. So your conversations will center around just that 4th grade class and the kids, but you never know what positions they may have or have had in the past. LinkedIn gives you the opportunity to connect on this level

Also, consider signing up for different experts RSS feeds. If you are in the design field or publishing or education or fashion or marketing or anything, there are experts out there blogging and publishing newsworthy information about your field of interest. This can help to bring you up to speed, articulate changes in your field, discuss job opportunities, and at the very least get you back into your field's nomenclature (that I'm sure you aren't using at home with your 4 year old).
In my former life (i.e., before kids) I spent a lot of time working on getting the company I worked for involved in these networks, and they are powerful, and they can be great tools for networking as we think about our "next" careers.
Here are other ideas, definitely worth some thought and consideration:
Talk to the other moms in your child(ren)'s activities, school, etc. Moms are ridiculously resourceful, you never know what some moms do in their spare time or what their husbands do, or their sisters, or their friends, you get the point.
Reconnect with people you used to work with in the past, even if you are seeking a position in a different field. It'll be good for you to catch up and touch base, and you might need a reference who can vouch for your actual "work" experience.
Word of mouth is a powerful thing. Do not underestimate it. Tell people what you're looking for, what you want to do and you'll never know what connections others might have. Ask them to keep you in mind if they hear about an opportunity that might be of interest to you. It can't hurt.
Consider joining a local club or group that is in the business area that you are interested. There are local chapters for marketing, MBA's, M&A, Sales, you name it, I'm sure it exists. Get on Google and educate yourself on those possible opportunities for networking.
Career fairs are also a great place to meet people in an area of work that you are interested in. Even if they aren't advertising a job you're interested in, it still provides you the opportunity to meet some decision makers.
Consider a class to hone your skills in a certain area, be it photography, computers etc. Colleges are always offering great, short, relatively inexpensive seminar type classes. There are bound to be some great connections to made in one of these courses all the while giving you the opportunity to brush up on a skill and add something current to your resume.
The possibilities are endless. I'm sure the right job is out there for anyone who wants it, it's just a matter of looking for it. And, being patient. With rising unemployment rates, and let's face it, some gaps on our resumes (which don't come close to capturing the magnitude of what we are/have been doing at home), we have to rely more and more on the networks we create with people.
Good luck! May your networks grow steadily and assist you in finding your dream job!