We want to provide ideas, inspiration, and information for moms everywhere as we look at the world around us through MomColoredGlasses...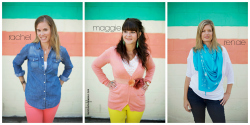 Popular Posts
Be Inspired
Not Found
Sorry, but you are looking for something that isn't here.
Be Whole
Not Found
Sorry, but you are looking for something that isn't here.
Be Informed
Not Found
Sorry, but you are looking for something that isn't here.
Today is our first post in a mini-series on working moms.  Nicole Bruinekool, a part time working mom, will share her thoughts on maneuvering her way through a career field while still holding on to those little hands that mean more than anything to us.  You can also find Nicole over at Pencil Skirts & Noodle Necklaces.  And you can find her right back here next week, sharing some more thoughts on being a working mom–and how to make it work for you!
********************
I work part-time as a Market Development Manager for a $13 billion manufacturer.  Working part-time has proved to be the right balance for me, my family, and my career.  I remain engaged in the workforce, while somehow dividing my time between managing people and projects, making macaroni necklaces at home with my preschooler, and working school lunches for my kindergartener.  Every single day I take a crack at my own version of having it all.  Some days I succeed.  Other days, I fail.  The balance of managing motherhood and a professional career is…a delicate art.
Today, I received my service award for ten years at my company (I won't mention that it was four months late).  Ten.  That is almost a third of my life.  When I started, I was so young, even renting a car was an issue.  I was 21.  I was eager to begin my career with a real job.  Nothing could slow me down.  I look back over the past ten years with a smile and I look forward to many more…but wow…I have changed.
I started in a fast-tracked training program.  I loved it.  I was newly married and it was tough to travel (leaving my new hubby at home) but it was a never-ending adventure.  Plus, he always had a box of Sprees, a pizza, and taped episode of Friends waiting to watch together on the couch in our tiny apartment (I could vacuum the whole place from one outlet).  Absence makes the heart grow fonder, right?  That is especially true for newlyweds.
The next five years were a whirlwind.  Four jobs in five years, a corporate relocation to Chicago and another promotion back home to Michigan…things were crazy.  But, good crazy.  That insanely competitive streak that runs deep in my veins was satisfied.  I felt like I was earning respect and gaining ground in my company.  My work was such a high priority in my life.
I started to get some symptoms of the fever…baby fever (you know, that feeling in the bottom of your gut that you want a little baby in your family to cuddle)…sometime while we were in Chicago.  I pushed it to the back of my mind, chasing another new job that would bring us home to Michigan.  Once we were settled in to our new home…that feeling kept creeping up more and more.  The symptoms continued to increase…staring at cute bellies, talking to new mommas, starting our own list of baby names, and daydreaming about how it would be to have our own little one.  I knew it was time to bring a baby into our life.
I was confident.  Actually, I was overly-confident.  I was sure that I would find a way to continue down the career path I had been working towards while changing diapers and nursing a baby.  Travel?  Well, I would find a way to manage it.  Nine months of pregnancy with maternity suit coats and comfortable shoes and I was on my way to my dream of having it all.
Then, I saw him.  We named him Myles.  I still cannot fully explain what happened to me.  Maybe it was some sort of short in my system.  I tried to fix it, but nothing I tried worked.  I had to find a way to stay home with him, at least a few days a week.  I could still have it all.  I just had to find my balance.  My definition of having it all had just changed a bit… tweaked, if you will.
I knew I needed to work and I was just so sure that my employer would never allow me to work part-time.  I managed our largest customers, traveled a lot, and just couldn't envision a way that it could be done on a part-time basis.  I was lucky to have negotiated an extended maternity leave, so it gave me time to establish a much-needed plan.  Plans are something I do. A screaming, blue-eyed, beautiful baby boy had already trumped my Plan A.  I felt like I was flying by the seat of my pants.  On to Plan B.  Real Estate?  I could work from home and find my own way.  It could work.  So…during every sleeping moment of my son's early life, I would study.  Somehow, despite the demands of a newborn baby, I took a class and passed the exam for my real estate license.  I made a plan to leave a company that I loved, for more time with Myles.  It was a risky plan financially, but it was something I had to do.  My priorities had changed.  Chubby cheeks and long eyelashes had blinded me.
The day finally came for me to resign.  (I can't bring myself to write the word quit.)   I was leaving something that I loved…something that I had lived and breathed since I was hired straight out of college.  I didn't know anything different.  It was my strong desire to be home with Myles that kept me going. I had coached myself, talked through the meeting a dozen times in my head, written a formal resignation letter, and prepared as much as I could for the meeting. What I wasn't at all prepared for…their response.
My company proposed a mutually beneficial scenario.  I could stay home and still maintain my career with them.  They wanted to find a way for me to work part-time.  I never expected such a progressive response.  They knew I loved my job and they wanted to help me "have it all".  (Just as a side note – I would never advise resigning from a job with the hopes of a counter-offer to work part-time.  Only quit if you truly plan to quit.  It is not a good negotiating tool.  Quite a risky tactic if you don't intend to leave.)
Today I am still living my own personal dream.  A second child and a few years later, I work part-time and maintain my career, while spending a few days home during the week with my kids.  I love it.  I love my job, the people I work with, and the company that made it possible.  I have "pulled over" on the career highway, but I am happy that I am still on the road (with two carseats in the back, of course).
Sometimes, I think that working part-time makes both parenting and working harder on me.  Conference calls and emails can make my days at home complicated.  Trips for work or extra meetings outside of my normal working days can make scheduling care a challenge.  Sometimes I feel like if I worked full-time or stayed at home all of the time, some things would be easier.  Yet, I wouldn't change the balance I have for anything.  It works for me.  That is what is important.  Each mother has to find a balance that works for her.
Being a mother is the hardest job.  Whether you work outside of the home, inside of the home, or both…our job is difficult.  We make decisions for tiny people that put all of their love and trust in us.  Working part-time outside of the house, I sit somewhere in between the "stay at home" and "work full-time" mom camps.  I hear both sides of the career statements… "I don't know how you stay home that many days of the week.  It's just not for me."  Or, "How can you deal with traveling for work?  I couldn't handle leaving my kids."  "Don't you worry about missing a milestone while you are at work?  "Don't you want to further your career?  How can that happen part-time?"  These questions are valid and possibly natural for moms to ask of each other…but they support an environment of second-guessing.  Promoting insecurities in our motherly decision-making abilities.  Couple them with the continual pressure from my employer to return to work full-time and it raises a constant awareness and uncertainty of my decision to remain part-time.
We need to be comfortable letting each other have our own balance, whatever it might look like.  Is it possible that is just our own insecurities about the decision we made (or may not have had the choice to make) that causes us to question the other "camp"?  Moms need to support each other through tough parenting decisions.  In today's world, there is not one choice that is better than another.  Working outside of the home is a very personalized issue that only has to be right for one person.  You (and your family, of course).  Working part-time works for me.  It is how I attempt to seek balance each and every single day.