We want to provide ideas, inspiration, and information for moms everywhere as we look at the world around us through MomColoredGlasses...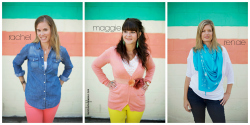 Popular Posts
Be Inspired
Not Found
Sorry, but you are looking for something that isn't here.
Be Whole
Not Found
Sorry, but you are looking for something that isn't here.
Be Informed
Not Found
Sorry, but you are looking for something that isn't here.
We have lived in our current house for about two years now. You would think that we should be all "moved in" and "organized"….. but unfortunately the process has been slow and I continue to have "areas" of my house that could use some major help! My kitchen pantry has not only been a ridiculous mess but it's also a source of stress every time I open up a cookbook to make dinner. Because everything has basically been thrown into a big jumble, I often discover I'm missing a crucial ingredient, a crucial ingredient is expired or it takes me 10 minutes to even find what I'm looking for!
Here's what I've been living with…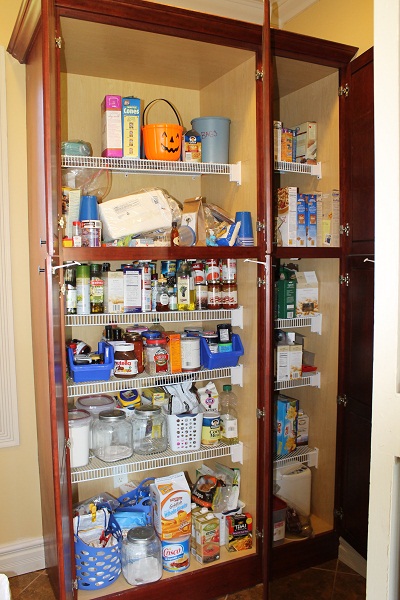 I did a lot of web browsing and pinterest-ing for pantry organization ideas and found myself LOVING all the beautiful martha stewart-esque pantries out there, BUT …. REALLY ….. I just didn't see myself transferring every box of dry food into matching stoneware containers, installing cute but space hogging clips for hanging individual bags of chips, spending $500 on fabric-lined pottery barn baskets or having rows of Orangina and Pellegrino bottles beautifying the shelves of my pantry on a regular basis. I needed a PRACTICAL solution to my pantry mess!
Here is my pantry makeover strategy and so far it has been quite successful!
Step 1: PURGE
As in, get rid of everything that doesn't belong, I haven't used in the past 6-12 months or is expired. A few interesting things I found in my pantry:
The cute magnetic bird salt and pepper shakers I received from my sis as a housewarming gift two years ago….so (Rachel) if you've been wondering where they are and why they haven't been hanging out on my dining room table, I found them!
Four bottles of red wine vinegar, three bottles of balsamic vinegar, three bottles of apple cider vinegar and two bottles of rice vinegar….why do I have so much vinegar!?
One $5.00 bill
Tamarind Paste (what is it??!!??)
A pair of toddler socks with soccer balls on them
A jack-o-lantern basket filled with stale halloween candy
Multiple containers of expired food including a can of evaporated milk that expired in 2005 and bags of dried beans which provided great entertainment for my son while I organized. (I'm still finding lentils stuck to my bare feet as I traipse around the house but it was worth the mess!)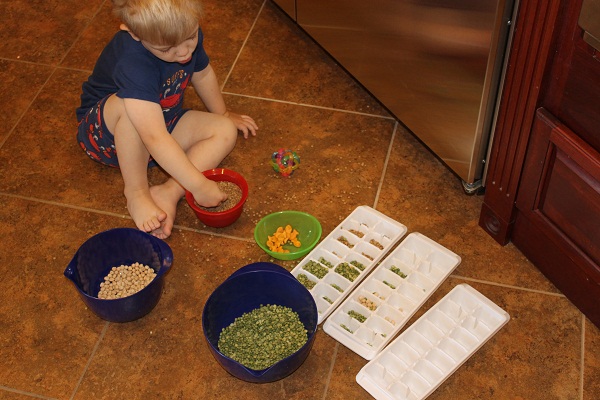 Step 2: CATEGORIZE AND CONTAIN
Part of my pantry problem is not lack of space, but rather the shelves are very deep and extend up quite high. Despite how hard I tried to keep "like" things together, all my cans, bottles and boxes of stuff always seemed to spread out and I would "lose" things in those deep dark corners. Also, the top shelves were definitely being underutilized. Even though I'm 5'10", I needed a stool to grab something off the top shelves so didn't bother putting anything important up there.
I started by categorizing similar items together and finding the most suitable place for them to reside. For example, we're big cereal eaters and for some reason I was trying to fit all of our cereal boxes in the narrow cupboard; by moving them to the larger cupboard I also provided more space to store the bulk quantities that I often buy.  I also stored frequently used items on the more accessible shelves.
I placed many of the similar smaller items into individual plastic bins in hopes to make it more convenient to find things, provide easier access considering the depth and height of the shelving and actually keep it organized. My favorite place to find plastic bins is at the dollar store…..similar bins sell at Target or Meijer for $3.99 each! Definitely not very "Martha Stewart-looking" but definitely affordable! I also like how they have holes in them so you can get a little peek at what's inside.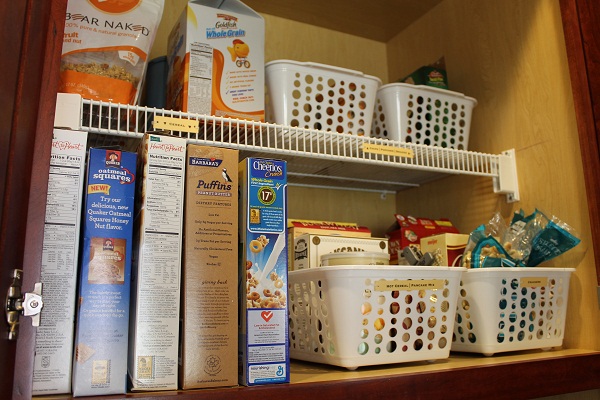 I just don't have the time (or the desire) to empty all my loose food items into airtight containers. I think keeping foods sealed in the original packaging with chip clips etc. is probably adequate for most foods that will be used up quickly. My one exception is bags of flour and other baking items which I do like to empty into containers to prevent mess and keep bugs out. I had been using large glass jars with metal screw-on lids – they looked pretty, but were heavy and the lids often didn't screw on correctly if tiny grains of flour or sugar got caught in threading. So, I opted for these heavy-duty Rubbermaid containers
 instead. Unlike the dollar store bins, they aren't cheap, but they have a tight seal and will last a long time!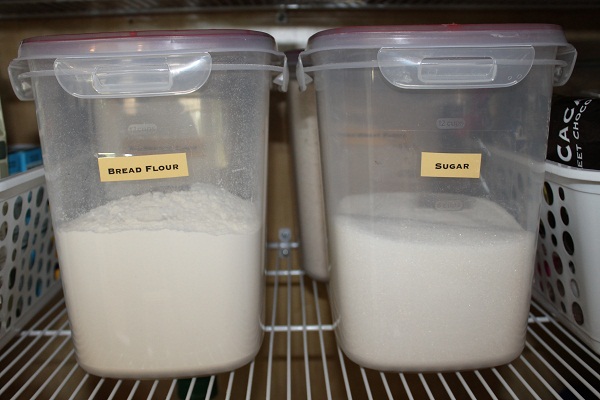 Step 3: LABEL
Part of me resisted being a "labeler", but I knew that things would not be put back in their respective place without it. What I simply did was type up some category labels on my computer, print them on cardstock, cut them out, punch holes in the sides and attach them to either the wire shelf or the plastic bin using small plastic zip ties.  Again, not too fancy but they do the job!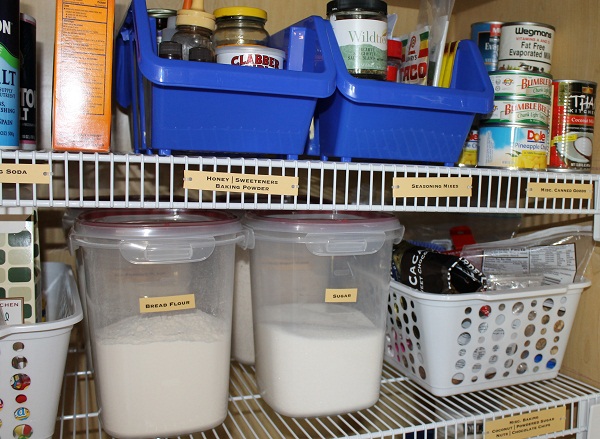 Step 4: BUY SOME USEFUL ORGANIZING STUFF
Even though browsing the Container Store literally makes me salivate, I didn't want to spend a lot of money on my pantry makeover. However, I did buy a few organizational items that I found to be quite useful for my particular scenario. I found these wall mount spice racks
on amazon which makes use of the underutilized cabinet door space. They were easy to install and I'll never have to spend 10 minutes searching for curry powder again!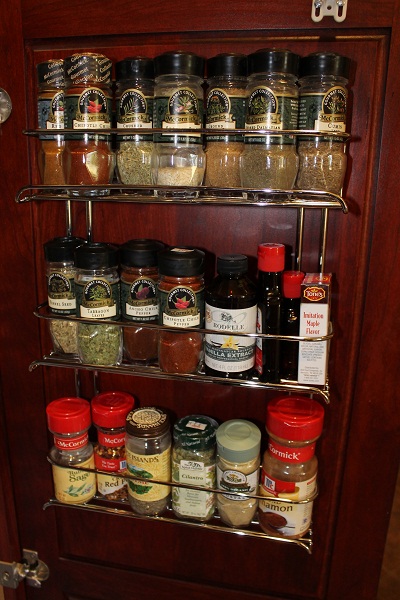 I also bought some of these shelf extenders….no more leaning towers of canned beans!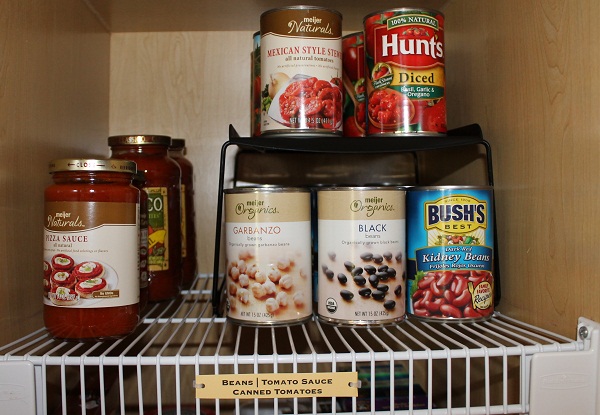 Step 5: ENJOY!
Here's the finished product!