We want to provide ideas, inspiration, and information for moms everywhere as we look at the world around us through MomColoredGlasses...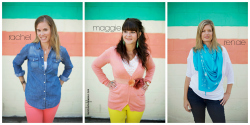 Popular Posts
Be Inspired
Not Found
Sorry, but you are looking for something that isn't here.
Be Whole
Not Found
Sorry, but you are looking for something that isn't here.
Be Informed
Not Found
Sorry, but you are looking for something that isn't here.
It began today. The registration for summer drama camp opened up, and I was all over it, signing Parker and Fiona up to participate again this year. They fill up, you know, those oh-so-popular weeks of camp where kids get to learn, explore, and give their parents a break in the action. Summer scheduling is serious business, and it always makes me feel very Jekyll and Hyde-ish,
On the one hand, I know that my kids thrive on having some sort of structure to their time. Too many days of "nothing" and they get irritable and twitchy, and that doesn't even touch the way I feel.
But on the other hand, I think about all of those school days, scheduled to the hilt, and I worry that I'm not giving them enough of a much-needed break. I worry that they will lose the ability to find creative ways to spend their time if someone is always telling them what to do and when to do it.
I don't think there is a perfect solution, no matter how hard I try. But I have learned a few things along the way…
1. Moderation always wins in my book. We try to limit the kids to one camp each summer, and that seems to work well for us. They get to pick their "favorite", and I don't feel like I'm running kids to a different place every week…or day.
2. Structure isn't a bad thing. Even when our day doesn't involve leaving the house, we still talk about our "plan for the day" at breakfast. This could be as simple as planning to make smoothies for a mid-morning snack or to put out the slip & slide after lunch. It provides a context for the rest of our day and gives them something to look forward to as they play.
3. I'm not always right. Sometimes what I think is "best" for my kids…isn't. Even though I might want to leave the house every single day to run an errand or hit the library for story time or go "do" something, it might be too much for the kids. Or I might think that going to zoo camp is the best thing ever, but my kids might really want to just have playdates with one friend once a week. The more that I pay attention to their needs, the better off we all are.
Summer scheduling can be stressful, overwhelming, and guilt-inducing…but like it or not, we all have to deal with it. I would love to hear your ideas on how you handle your kid's summer scheduling so that we can learn from each other!