We want to provide ideas, inspiration, and information for moms everywhere as we look at the world around us through MomColoredGlasses...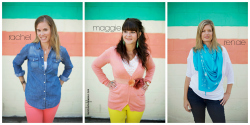 Popular Posts
Be Inspired
Not Found
Sorry, but you are looking for something that isn't here.
Be Whole
Not Found
Sorry, but you are looking for something that isn't here.
Be Informed
Not Found
Sorry, but you are looking for something that isn't here.
One of the best things about summer is the variety of homegrown fruit and vegetables made available to us.  Knowing where to purchase the best local produce and what to do with it once you get it home is information that perhaps many of you know, but may need some inspiration to utilize, which is the point of this post.  My hope is that you will eat great for a reasonable price this August, and then make your buck stretch by preserving some of those local eats for enjoyment next winter.
Methods of Attaining the Best Summer Fruits and Vegetables
Grow Your Own  
Backyard Garden or Community Garden:  If you have the space, gardens are awesome, and it seems like box gardens are a popular way to go right now.  Many people choose to do a square box because it allows you to work in the dirt without actually going into the soil. Pulling fresh cucumbers and beans straight off the vine and on to the dinner plate is incredibly rewarding, but it does take time, money, and a little know-how.  Start talking to other gardeners now and reading up on how to best utilize your space in your environment to create your own garden next summer.  It's a great investment and fun family activity.  If space or money is an issue, look into getting a plot in a community garden.  Many churches and community centers sell plots very inexpensively, and then it's up to you to tend that plot.  This can be a great way to get to know your neighbors too.
Potted Gardens:  If your yard space is tight or if you just want a small amount of specific plants, this is a great option.  Plant your veggies/herbs in good terra cotta pots and move as necessary to find optimal light exposure.  You can also extend your growing season as well when frost comes by moving your plants indoors for the night.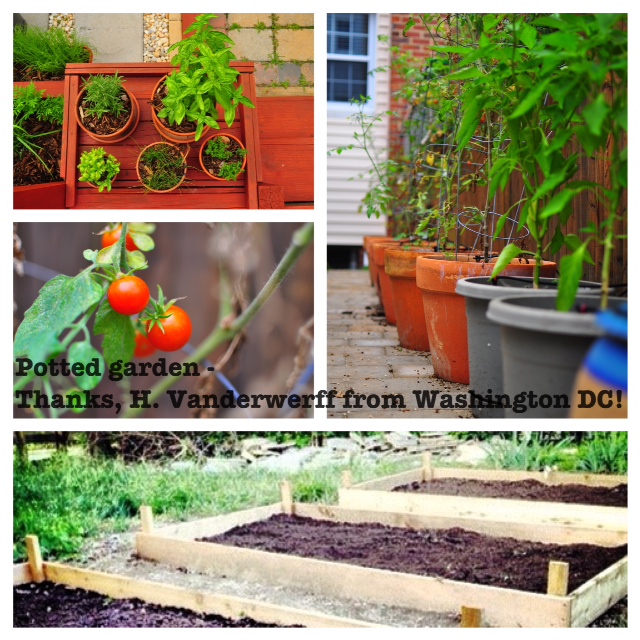 Find Others that Grow Their Own 
Farmer's Markets:  We have a lot of farmer's markets down here in Cincinnati, and they are wonderful.  I love going to the market and perusing among the venders and scoping out the best prices for the best looking produce.  It is a total experience for me.  I've also developed a money saving skill that involves avoiding high volume market events.  Even though having a variety of venders is so great (and I love going to these markets on the occasion), on a more frequent basis I go to lesser known markets with fewer venders.  I find that their prices are lower, and they are more excited to talk about the produce and how it was grown.  I also love that they start to recognize me and offer me tips about how to best prepare what I've purchased.  I'm not saying that they don't do this at busier markets, but they just don't have the time to fully interact with every customer, and I find this interaction invaluable.  Find Farmer's Markets in your area.
Off the Road Markets and U-Picks:  I haven't seen many off the road markets in Cincinnati, but I know they're everywhere in my home town.  These are little stalls that people put up selling the produce they've grown in the backyard.  And I love U-picks.  Generally what you are picking is priced down from market sale price because you are putting the labor into getting it from plant to home.  I'm always a big blueberry picker, and I love that I can weed through all those puny berries to bring home only the best. Find U-Picks in your area.
CSA -Community Supported Agriculture:  These are shares of a farm that can be purchased for a certain amount upfront.  What you get is a weekly share of the produce that can be picked up at the farm or various other locations.  One thing that especially appeals to me about buying into a CSA is that many farms will let (or require) you to spend time out at the farm, a great family experience that teaches your kids where food comes from.  Just make sure you research your local CSAs early; I always think it's a brilliant idea in May, and then all the shares have already been purchased.  Here is a great article that a friend, Holly, wrote about her experience with CSA.  Find CSAs in your area.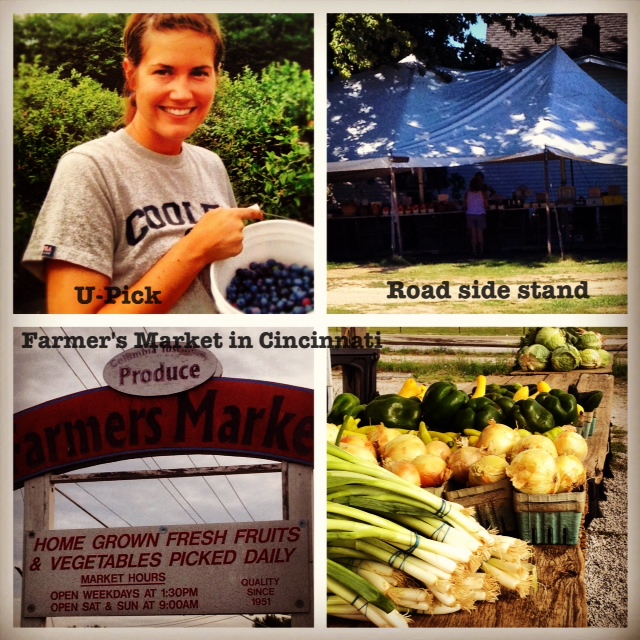 Pay a Middle Man 
Food Co-ops:  These run similarly to CSAs, but instead of paying into individual shares, one pays a membership fee for one year (typically, very low – it's 35 dollars in Grand Rapids, MI).  Then, you order what you would like one month at a time and pick it up.  Most co-ops specialize in local meat, dairy, egg, and produce sales which means you get the freshest food possible, and although prices may be a little more expensive than the local grocery store, it can be worth it to get grass-fed meat and free-range eggs all year long.  The only downside is that ordering from a co-op requires advance planning; but in my opinion, that can be viewed as an upside.  Forcing yourself to sit down and plan out your meals in advance helps you stay on budget and also reduces a lot of last minute 'what are we eating tonight?' stress.  Find co-ops in your area. (Thank you to Danielle Bronson from Grand Rapids, MI for providing information regarding her experience with utilizing West Michigan Cooperative).
Food Delivery Systems:  These are wonderful if you're just a little too busy to get to the store.  Food delivery systems like Green B.E.A.N. Delivery deliver a weekly bin of organic fruit and vegetables right to your door.  This method is pricey, but systems like these can deliver best quality and local produce.  It can be a real treat to open up that bin and discover what your meals will revolve around that week.  Although I've never footed the bill to do this, as someone that loves to cook, the prospect of a challenge like this really excites me! (Thank you to Kristin Johnson from Batavia, OH for providing information regarding her experience with Green B.E.A.N. Delivery.)
Grocery Markets with Emphasis on Local Produce:  Are you ignoring the little markets on various street corners near your home?  Check them out – you never know what they might have.  Some bigger name markets also emphasize local produce; you just need to look a bit harder.  For example, whenever I'm at a Meijer (one of the Mid-Wests largest grocery store chains), I always look at what produce came in that week and where it traveled from (they have a posted bulletin about this).  I know that whatever I buy from this list, the produce had a relatively short ride to the store before it was for sale.  I like knowing that fresher = better quality, and that I'm supporting local farmers.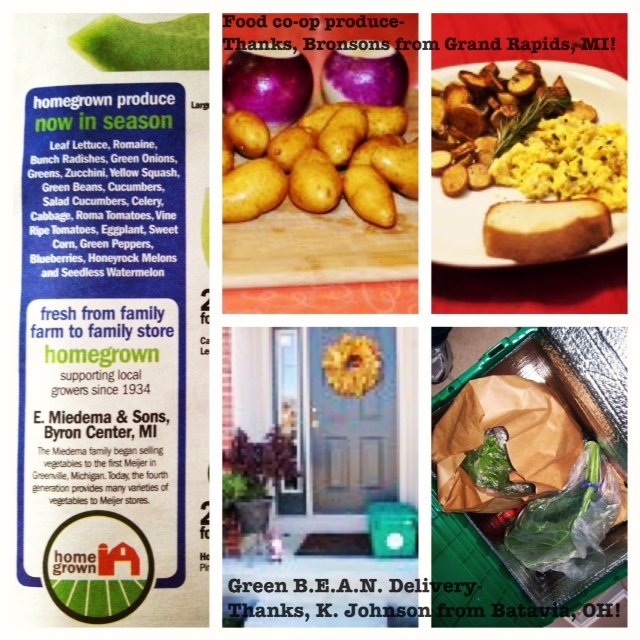 Come back tomorrow and I'll share some tips on what to do with all that great summer produce that you get.  It's easy to let it go to waste and that's a shame!  It's important to figure out what to do with it all.