We want to provide ideas, inspiration, and information for moms everywhere as we look at the world around us through MomColoredGlasses...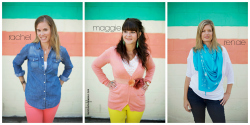 Popular Posts
Be Inspired
Not Found
Sorry, but you are looking for something that isn't here.
Be Whole
Not Found
Sorry, but you are looking for something that isn't here.
Be Informed
Not Found
Sorry, but you are looking for something that isn't here.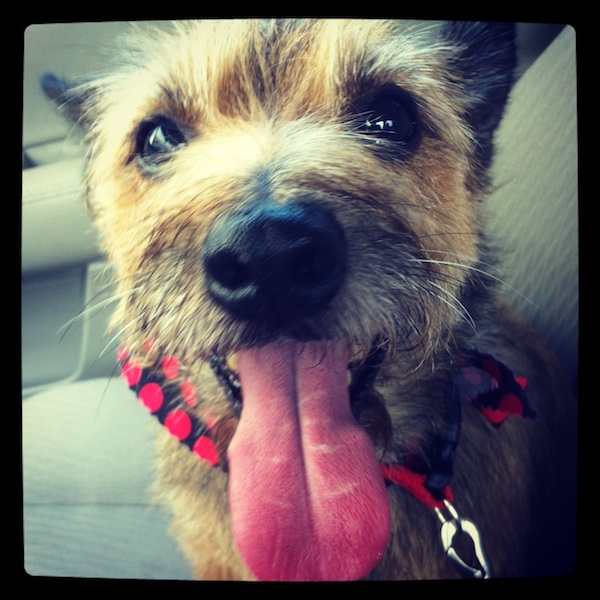 Every now and then on momcoloredglasses, we get a chance to do a sponsored post for which we are compensated either by receiving a free product or a little bit of cash. When we were chosen by the Mom It Forward Blogger Network to write a sponsored post for PetArmor, I grabbed it. No, I'm not a vet, but I've got two really important reasons for wanting to write about this product…because I never write about something I don't believe in!
Reason #1: I have a dog.
I admit, some days I kinda forget that I have a dog. It all started the day that I brought my first human baby home from the hospital. Before that time which my husband likes to call "B.K." aka "Before Kids" aka "The Golden Age" we were able to sleep in, live in a clean house, have quiet, relaxing meals…..and our dogs were our babies. They snuggled with us on the couch and on our bed, were always greeted enthusiastically with scratches on the head when we came home from work, were given fun dog toys on a regular basis and had doggy stockings hanging on the fireplace at Christmas. I remember having a pregnancy freak-out one night because I was afraid our dogs wouldn't feel loved anymore after the baby was born. I also remember being horrified when my co-worker admitted "oh, after we had kids we really didn't care about the dogs anymore". 'gasp!'
Well, yes, that is kinda what happened to us too. Not that we didn't care about the dogs anymore, it's just that human babies are way cooler than dog babies, and as you know, human babies are pretty time-consuming. For awhile our dogs were definitely second string unless they did something especially cute like this…

Or something especially naughty like this…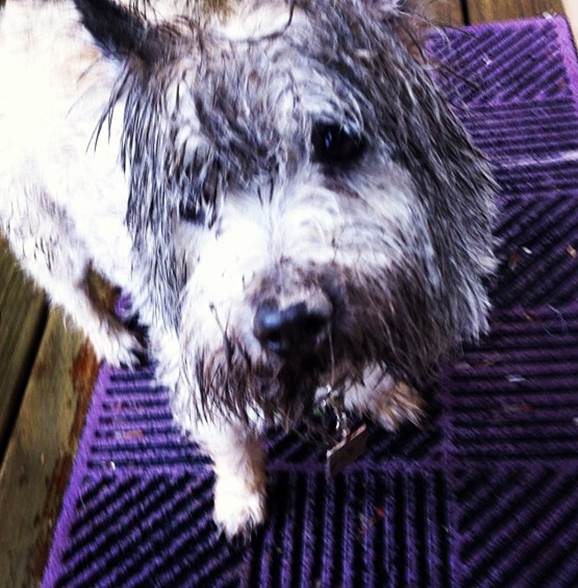 Then something really amazing happened. As our son Elliot got older our dogs found a new best friend. Elliot hugs and pets the dogs, runs around the backyard with the dogs, feeds the dogs their breakfast and dinner as one of his daily chores and tells everyone about his dogs….even strangers. And after we added another kid to our family, can you guess what was one of our daughter's first words? "Koko"….the dog's name.
I'm so glad that we are dog owners. Our dogs are such a big part of our family; they also help teach our kids responsibility and kindness. For this reason, it's really important that my dogs stay healthy. PetArmor helps us do this.
Reason #2: I am a mom.
PetArmor protects dogs by killing fleas, ticks and lice….but it also protects us by preventing the transmission of these bugs to our bodies. As a mom, I will do whatever it takes to protect my kids from danger and as a medical professional I've seen the effects of Lyme Disease, a tick-borne disease, on my patients first-hand. PetArmor contains Fipronil, which kills the four major ticks that carry Lyme Disease and is the active ingredient in Frontline products but is considerably less expensive. This time of year is especially important for applying a tick-preventative as the adult-stage deer tick (a common vector for Lyme Disease) begins its feeding activity about the time of first frost (or early October), and will latch onto any larger host (dog to human) any day that the temperature is near or above freezing.
PetArmor is really simple to use. Just part your dog's hair and squeeze the applicator on a single spot on your dog's skin until the entire contents are applied. Make sure you (or your kids) don't touch the area where the application was made until it is dry.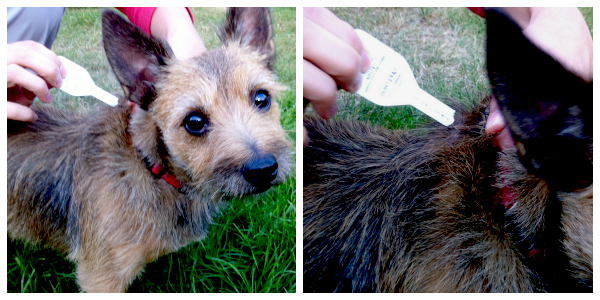 I just treated my dog with PetArmor today and am looking forward to one less thing to worry about in our happy family of kids….and pets!