We want to provide ideas, inspiration, and information for moms everywhere as we look at the world around us through MomColoredGlasses...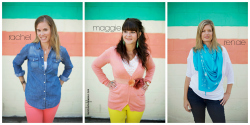 Popular Posts
Be Inspired
Not Found
Sorry, but you are looking for something that isn't here.
Be Whole
Not Found
Sorry, but you are looking for something that isn't here.
Be Informed
Not Found
Sorry, but you are looking for something that isn't here.
I sat huddled in my desk chair, phone plastered to my ear, as I tried to focus on talking to Sherry Surratt, the CEO of MOPS International. The kids were yelling in the background, telling me "who hit who" and squawking for snacks while I attempted to convince them with hand gestures that I would only be a few minutes.
Thankfully, as the leader of an organization who focuses exclusively on moms with young children, Sherry understood where I was coming from. The vision of MOPS is to "encourage, equip, and empower" moms to be a better wife, mom, and woman through regular meetings at local churches. It is a place for moms to find support during those tough early years of motherhood. Sherry told me that the biggest challenge she sees moms facing these days could be summarized in one word – "overwhelmed". Through their Better Mom, Better World research, they have found that 80% of moms don't live near their moms, the average family moves at least four times before their kids are 18, and as a result, moms find themselves feeling isolated and alone. That's where MOPS steps in to connect and encourage those women in groups that support each other.
But MOPS is much more than just a "moms club". Sherry sees it as a training ground for women leaders, and with her background working as the Director of Leadership Network's Radical Future Innovation Labs, she knows more than a little bit about how leadership works. She firmly believes that "women are gifted to lead" and that "leading your sisters is an incredible dimension of MOPS that not everyone realizes".
As MOPS moms, women have the opportunity to lead a small discussion group and also to step up into a steering committee role. This could be anything from leading the small group leaders to organizing the social activities to heading up the entire group. The MOPS organization is intentional about providing leadership training for these women through their Connections magazine specifically designed for leaders, annual conferences and webinars. They do a tremendous job supporting their leaders and helping them grow.
As I talked to Sherry about finding leadership opportunities for MOPS moms, I immediately thought of my sister-in-law. She has capitalized on the time while her kids are little to find a way to use her leadership skills in MOPS as the director of a group in Portage, Michigan. Not only is she blessing the women who are a part of her group, but she is also filling her resume with transferable skills to the workplace.
I love organizations that work hard to make moms lives better, and MOPS seems to be doing all the right things to both encourage and train women leaders. I asked Sherry if she had any additional words of encouragement for moms and she said to remember that "You are a world-changer….uniquely created to influence the circle we are placed in, whether that includes our kids, families, or our communities." It's a great reminder, especially when we find ourselves at the end of a tiring day and feeling incapable to deal with the pressures of motherhood.
Want to find a MOPS group near you to find more support, encouragement, and amazing leadership opportunities? If you live in the United States, you can head over to the MOPS website where they have a handy search feature to help you track down a nearby group. While you are there, check out the other resources specifically related to moms.
You can also check out Sherry Surratt's blog which will be launching in the next couple of weeks. She will be focusing on women leadership leading up to the release of the book she is co-authoring with Jenni Catron called Just Lead: A No Whining, No Complaining, No Nonsense Practical Guide for Women Leaders in the Church.
I hung up the phone, and headed out to deal with my quarreling kids and snack time, but I felt refreshed and energized after my conversation with Sherry.
I was a "world-changer", and I was about to go change mine.
MOPS has generously provided two goodie bags for our readers, including Tracey Bianchi's book The Mom Connection that we reviewed a couple of weeks ago! Leave a comment and tell us what (or who) encourages you as a mom for a chance to win! We will pick two winners on Saturday, Oct. 13.