We want to provide ideas, inspiration, and information for moms everywhere as we look at the world around us through MomColoredGlasses...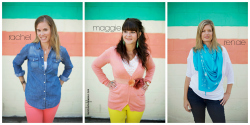 Popular Posts
Be Whole
Not Found
Sorry, but you are looking for something that isn't here.
Spring is here with warmer weather, longer days and fantastic running weather! Whether you're a seasoned runner or a newbie, it is a great time of the year to lace up those shoes and hit the road.
Here are a few tips to get you started…
Training Programs
If you are new to running, a 5k (3.1 miles) is a great goal to set.The best way to get ready is a walk/run combination, working up to running the entire way.
Here is an example training program from Hal Higdon.
It is an eight week training program, but if you are totally new to running, give yourself a full 12 weeks to prepare. For the first four weeks, focus on running as long as you can, then walk till you feel you can run again, and repeat working up to 3.1 miles. After four weeks, start following the above link. Don't worry about your speed just yet, cover the distance first, then increase your speed.
If you can already run a 5k, here is a program for the more advanced runner.
Running Gear
Having the proper foot wear is very important. It would be worth it to take a trip to your local running store where they can fit you for the proper shoe. You can also check out this article from Runners World about getting The Right Running Shoe Fit. Also, wearing the proper sock is also key. In my opinion, a dry fit sock is definitely the way to go. One brand is the Nike DRI FIT 3 Pack Cushioned Low Cut Sock
, but there are plenty of options.
Cross-Training
While you are ramping up your running routine, cross training and strength training are also very important. One day during the week, try swimming or riding a bike instead of running. Check out this IronStrength Workout from Dr. Jordan Metzl that will help increase your race strength as well as reduce injuries. And yes, it includes videos!
Stretch it Out
Don't forget to stretch after each workout. Let me repeat: Don't forget to stretch after each workout! Stretching afterwards will help prevent injuries and sore muscles. Remember to hold each stretch for 20-30 seconds. Here is a series of 12 stretches from Cool Running that will give you a great all-around stretching routine.
See you out there!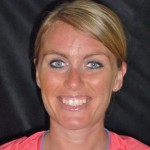 Written by: Lyndsey Boeve