We want to provide ideas, inspiration, and information for moms everywhere as we look at the world around us through MomColoredGlasses...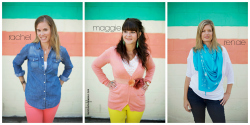 Popular Posts
Be Inspired
Not Found
Sorry, but you are looking for something that isn't here.
Be Whole
Not Found
Sorry, but you are looking for something that isn't here.
Be Informed
Not Found
Sorry, but you are looking for something that isn't here.
About a week ago we asked you to nominate moms that you knew who could use a little breathing room this month.  Breathing room because they'd been going through a rough patch, a dry spell, and living in some sort of valley for a long time.  We received eleven touching stories from you.  When we read what you have to say about each of these moms we wish that we had the resources to give every single one of them the "breathing room" that we're offering and that they so clearly deserve; $100 for them–just them–to a place that makes them happy.
We've narrowed down our choices to five stories.  Here's where you take over.  It's your job to tell us who you think should get that breathing room. Anyone can vote…you don't have to be the one who submitted the story.  We need lots of votes because this is a hard decision!  If someone's story resonates with you for any reason—VOTE FOR THEM!
Here are the rules:
1.  You have through Saturday, the 17th to vote.
2.  Read through each of the stories below and decide which one you'd like to vote for.
3.  Leave a comment below telling us which number you think should win.  That's it–you don't have to provide a reason or a rationale—just the number of the story.
4. If you'd like to vote a second time (and you can vote for the same story again) make sure you like us on Facebook.
5.  If you'd like to vote a third time (again, for the same story) share this post on your own Facebook wall in the hopes that you can collect more votes for the story that you think should win.
That's it.  Pretty simple.
And now…….the stories.
1.From Kelly………I wanna introduce you to R. She's a young woman who started her family early, earlier than her dream would have been to start. Raising three girls on her own, she has worked hard, doing all she can to keep her family together and teach her children what to put their hope in. In just a few weeks, one of her daughters is going to make her a grandmother. It wasn't what she would have dreamed for her little girl, but she's supporting her and loving her and this baby boy no matter what. As she helps her daughter transition into being a responsible parent now, I want her to feel the support of other moms around the country, giving her virtual pats on the back and virtual hugs as she presses on to do the right thing by her child even in the face of hard stuff.
2. From Kelly……More than a year ago, this mama returned from a weekend away as a family. Her husband went to work on what they thought was a normal morning. But, he was home in only an hour. Budget cuts. That's what they said. Christmas last year was hard; money was tight but they were hopeful he'd have a job soon to provide for the family which includes 3 little ones – two of whom have significant health needs. This year, they are still waiting. And, they are now facing leaving their small home to move in with family. They have no other choice. This Christmas, this mama needs some breathing room as she stands by her husband and breathes in hope that there is a job out there and provision for their family.
3. From Erin….My friend Keri deserves a little breathing room. She is a mother of 7 children and that alone should qualify her. But there's more! Early last year her middle child had an accident at a friends house that left her forever changed. The medical bills along with the many trips to children's hospital (1.5 hours away) has taken an even tighter grasp on their wallets than everyday expenses did. And although she has an outlook calendar to organize her family's needs and sleeps less than 5 hours a night on most nights, she always has time for others. She works weekly in the church children's program, as a ministry with her husband. She is a coordinator for the school book fair at her children's school that happens twice a year. And this past fall, began to co-lead a women's bible study, after the leader moved away suddenly. She has an important role in a dear friends fight against brain cancer, even after going through the heartbreak of losing another dear family member to cancer just months earlier. Needless to say, she's a giver. A giver to her family, her friends, her church and community. She needs some breathing room… To catch her breath.
4. From Tracy…..One of my oldest friends could so use some "Breathing Room". She is the mother to two adorable littles…she is a wife….and she is living with fibromyalgia. I didn't know much about this disease until she shared it with me…she is often too exhausted to leave her house. She is in constant pain. She has constant headaches and I think she is living with depression. She doesn't feel good ever. She is an amazing mother and does everything she can for her children and husband. I can't imagine never feeling good, and still plodding through life, trying to do everything a mommy should do when sometimes you just want to crawl in bed and pull the covers over your head. Jennifer would so be appreciative to have a little time to be her. Thank you for this opportunity.
5.  From Karen……I know this may be somewhat disqualifying, but I'd like to nominate a mother who recently went to be with the Lord. She was 31 and is survived by her husband and 3 children under the age of 5. Her death was completely unexpected, and so her husband is left to both provide for and care for their children. They could definitely use some encouragement, so I'd like to suggest giving the gift in her honor to bless her family with a little bit of joy once again.
Thank you so much for reading these stories, voting for them, and helping to make someone's life a little more bearable this month–in just the simplest of ways.  Make sure to check back often to see how the voting is going and to see who wins come next Sunday after the voting closes on Saturday.